Tumwater's Recent Real Estate Boom: A Conversation with City Administrator John Doan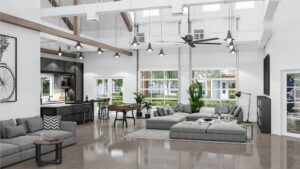 Tumwater Pointe Apartment units are an extraordinary blend of contemporary craftsmanship and modern elegance located right in the heart of the southern gateway to the Puget Sound. *Photo Courtesy Tumwater Pointe Apartments
We recently sat down with John Doan, City of Tumwater Administrator, to discuss the recent boom in Tumwater's real estate market and what it means for the future of Tumwater and Thurston County.
EDC: Can you speak to the "boom" in the real estate market Tumwater has been experiencing lately? Is it commercial/residential development or both and which specific projects have attributed to the boom?
John Doan: "Tumwater is experiencing a boom in the real estate market, primarily growth in single family residences. Last year the City issued 106 single-family building, our norm is between 90-125. We are at 220 applications so far this year. The vast majority of the new homes are being built by a national builder, Century Homes, in The Preserve–neighborhood at the south end of the City, just off of Old Highway 99. https://www.centurycommunities.com/find-your-home/washington/seattle/tumwater/preservetumwater
And, Rob Rice Homes and other residential builders are working in other locations around town. https://robricehomes.com/community/kirsop-crossing/.
There are more than 300 additional single-family lots that our Community Development Department is reviewing, either in the preliminary plat stage or final review.
Tumwater has not had much multi-family development in the past decade.  However, that is picking up, too. The new Tumwater Pointe Apartments, located behind Tumwater High School, is wrapping up construction and will add 140 units. https://www.facebook.com/TumwaterPointeApartments/
The Crossroads on Crosby is also wrapping up construction and has 54 units. Its 4-story construction is a new scale of residential living in Tumwater, offering urban-style apartment homes. https://www.crossroadsoncrosby.com/
There is a preliminary application for the Bishop Road Apartments that would add another 140 units behind Home Depot.
Non-residential projects under construction include:
Kaufman I-5 Commerce – 12 commercial/industrial lots in the NW quadrant of I-5 and 93rd
Kaufman Development & Construction new headquarters on Sweet Iron Court off of 79thAvenue, near the Tumwater Warehouse District.
12,000 sq.ft. multi-tenant spec. building next to the new Kaufman headquarters building.
D. Fowler Company, distribution and retail facility, located at 8950 Tilly Road.
First building of the Craft Brewing and Distilling Center on Capitol Boulevard that houses the SPSCC Brewing and Distilling Education Program and Heritage Distilling Co. Both tenants are in the process of moving into their spaces.
EDC: How has COVID-19 impacted this trend? Can you give an overall snapshot of the current market?
John Doan: "As you can see above, we have a surge of residential development. That is partly impacted by a very large subdivision and a national builder with the capacity to build quickly, but those homes are also selling rapidly. From what I can surmise, housing prices are still high and even rising in King County. The market is still robust up there. Until COVID-19, Tumwater was experiencing a decent rate of growth with people moving to Thurston County and commuting to Pierce and King counties, choosing to trade commute time for housing affordability.
COVID-19 response has demonstrated that teleworking works! There are a number of employers telling their folks that staff won't be coming back to work at the office. One example is King County Parks who told 800 of their downtown Seattle employees they will be working at home forever. Those employees now can choose to relocate to places in Thurston County and leave the more expensive housing in the greater Seattle area. With commuting reduced to once a week or less, communities that are further away become viable locations to purchase a home and build equity."
EDC: Olympia seems to be outpacing Seattle in terms of population growth and five-year job growth. What does this mean for the future of the economy of Thurston county as a whole?
John Doan: "Great question and I wish I knew the answer. In the old, pre-COVID model, that meant more people shopping, eating-out, recreating, going to movies, paying taxes, etc., in our community and that helped to fuel an economic engine. But after COVID, what will those former activities look like? COVID has accelerated the transition of shopping from brick-n-mortar to online and pickup. It has impacted restaurants and entertainment. What will our patterns be like post-COVID-19? I don't really know.
I don't think everything is bad for small retailers. Just my own thinking on this, some small retailers will be able to adapt and expand online options and build sales. And we are seeing some specialty restaurants that are creating products for home consumption. Time will tell what that looks like and how customers respond."
EDC: What do you envision for the economic trajectory for Tumwater and the County over the next 5 years and how is Tumwater prepared to meet the demands of population growth?
John Doan: "We are working on infrastructure to keep pace with development – ensuring there are utilities, transportation, parks, etc. The recently approved Metropolitan Park District is supporting enhanced park amenities and enhanced recreation programs in the community. The City is also focusing on quality of life elements in our community, including the development of a Cultural Arts Plan and continued advocacy for the craft beverage industry and the local businesses in brewing, distilling and cider-making."
EDC: How will this economic growth benefit residents of Tumwater- homeowners, renters, and business owners?
John Doan: "All the pieces of the community come together – housing, jobs, education, quality of life, investment, social safety net, environment, etc. When this growth can happen at a reasonable pace, it can help advance all of those pieces and benefit the entire community with improvements in local infrastructure and utilities.
In Tumwater, we want to ensure that new development serves the needs of our residents and aligns with the City Council's strategic priorities. The growth we are experiencing now is providing good wages and benefits for workers at the various construction projects. Local area businesses and service workers may also benefit during a phase of increased development."
Natasha Ashenhurst
2020-09-28T17:26:49-07:00