Alliance Northwest – the largest business-to-government conference in the Pacific NW, is scheduled for March 10, 2022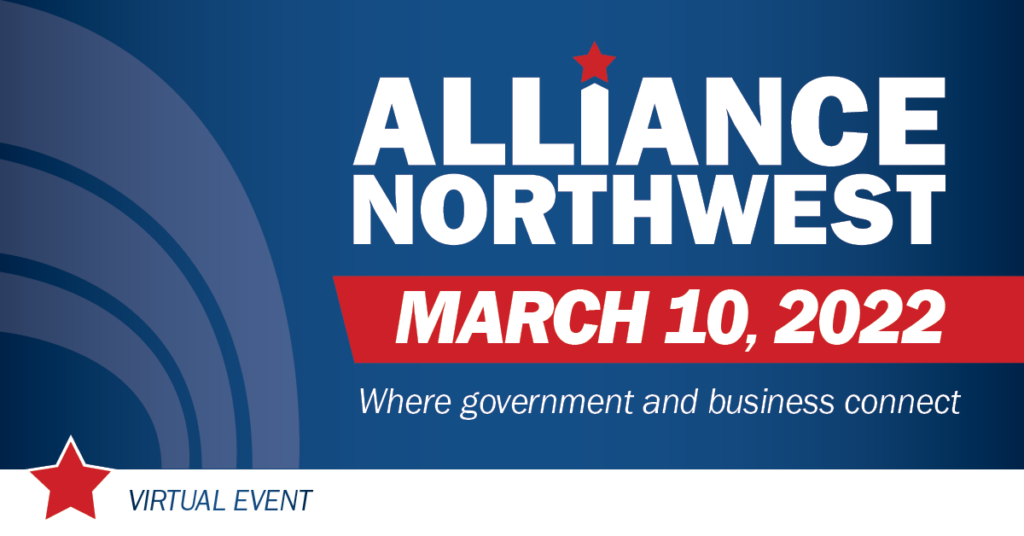 Alliance Northwest – the largest business-to-government conference in the Pacific NW, is scheduled for March 10, 2022
Lacey, WA – Alliance Northwest, the largest business-to-government conference in the Pacific Northwest, is celebrating its 36th year of providing the premier place for government marketplace updates and quality networking between government agencies, prime contractors and small businesses. The event is virtual in 2022, allowing for more efficient networking.
Hosted by Thurston Economic Development Council, home of Washington Procurement Technical Assistance Center (PTAC), Alliance Northwest has a strong history of federal agency support. Alliance is widely known as the place where business and government learn and connect.
"Last year's virtual event had over 700 individual meetings between agencies, primes, and small businesses. We expect that number to double this year," said Tiffany Scroggs, Program Director of Washington PTAC.
The event will once again feature the who's who of federal, state, and local procurement and quality learning sessions with expert speakers.  This year's virtual event will also include the 2022 Pierce County Purchasing Forum, which will provide an opportunity for event participants to learn about doing business on JBLM, connecting with south sound primes and agencies, and more.
Who Should Attend?
• Businesses interested in selling to the government and prime contractors
• Prime contractors and government buyers seeking to reach small and diverse businesses.
This event attracts over 1,000 attendees, including the who's-who of government contracting. Alliance Northwest is the premier government contracting event in the region, bringing together prime contractors, government agencies and small businesses for a full day of relationship building.
How Much Does it Cost?
Attendees:
Early bird pricing is $50 through January 31. After January 31, the price is $75.
There are a limited number of 50% attendee discounts available for:
Certified WA State Veteran Owned Businesses provided by WDVA
MBE, WBE, MWBE, CBE, SEDBE, Certified by OMWBE provided by OMWBE
These discounts are not available to booth or sponsor registrations
Sponsors: Packages starting at $1,000
WHO: Thurston Economic Development Council
WHAT: Alliance Northwest
WHEN: Thursday, March 10, 2022
WHERE: A Virtual Event on the SWAPCARD Platform
FOR MORE INFORMATION: Holly House, (360) 464-6040, [email protected]
REGISTRATION: https://www.eventbrite.com/e/alliance-northwest-2022-registration-211210405007