Buyer Outreach Information Session About South Sound's Newest Famer Cooperative Online Sales Platform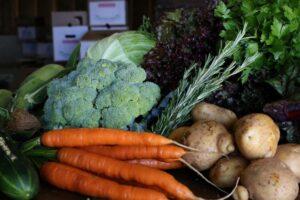 On Thursday, February 11, from 3:30-5:00 p.m. via Zoom, the Regional Agricultural Development group will present the newest food system development called the Southwest Washington Food Hub. The Southwest Washington Food Hub is part of a farmer-owned cooperative, comprised of individual farmers, with the goal of connecting you with the highest quality, healthy, locally grown foods you need to help your business thrive.
The Food Hub is conducting a buyer session to teach buyers more about the food hub and help buyers improve their marketing of local purchasing, and to better understand what buyers need from the local farm community. Do you need to source carrots for your juice bar? Specialty meats for you restaurant? Or local beauty products for your retail store? We are here to connect you with local producers in our community.
The Food Hub improves your businesses access to local products by having one-stop online shopping, delivery options in participating counties and single-point of payment across multiple farms and value-added products. You know which farm you are buying from, so you can support your favorite producers and correctly label your local goods! To learn more about our farmer cooperative and online sales platform, please check out our website at swwafoodhub.com. If you are interested in attending the email, please email [email protected] for the Zoom invite. Or find the event on the SW WA Food Hub Facebook page here.
WHAT: Food Hub Buyer Outreach Information Session
WHEN: Thursday, February 11, 3:30 p.m. – 5:00 p.m.
WHERE: Virtual. Email [email protected] for the Zoom link or Visit the Facebook Event page.
*Photo Courtesy Southwest Washington Food Hub