Capital Medical Center's Emergency Preparedness Plan and What Your Business Can Do to Prepare for an Emergency
We reached out to Capital Medical Center to learn how they developed their Emergency Preparedness Plan and advice for organizations that need to develop their own plan. Here is what we learned: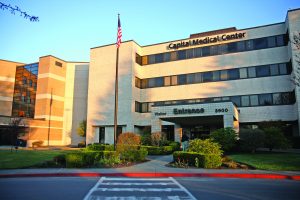 "The Joint Commission, a health care accreditation organization, requires that we have a comprehensive emergency plan that incorporates the hospital and all associated clinics," says Stewart Mason BSN, RN, Director of Emergency Services at Capital Medical Center. "The plan is developed by an assessment done in the county that examines potential external and environmental hazards and creates a plan based on our ability to provide ongoing care. Annually, the hospital conducts an integrated exercise in conjunction with the Thurston County Department of Health, Thurston Emergency Management Services, and the Northwest Healthcare Response Network."
The hospital must also conduct a 96-hour internal sustainment exercise annually where they measure the ability to sustain operations for 96 hours in the event of an emergency. The practice examines and tests phone systems, electronics, and medical record-keeping, staffing, intake of patients as well as the preparedness of the hospital's executive and administrative teams. Mason also conducts staff Hazmat training.
"Because a hospital must be prepared to operate 24 hours, a preparedness plan differs from that of other organizations," says Mason. "The plan is designed and prepared as a guide to use in case of an event, all executives and key team members can refer to the guide, which consists of checklists and instructions based on the specificity of Joint Commission requirements."
Mason recommends the following steps when devising an Emergency Preparedness Plan:
Understand the fundamental critical mission for the business at-hand
Determine which support features are crucial: personnel, supplies, equipment, etc.
Come up with a way to assess which factors may affect you the most
Plan to test and exercise the plan to test functionality and determine its effectiveness
Train others how to execute the program based on the specific problem at hand and hold a test exercise
At the end of practice gather the core people and review the information and results
This can develop your outlier plan, improve your existing strategy or develop something new based on anything unexpected that arose