Don't Miss the Final Six Days of the Tenino Holiday Market, 28 Vendor Booths and Raffle Prizes!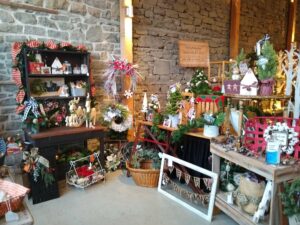 Kick-off this decidedly different holiday season by shopping and supporting Tenino's unique and distinct artists, crafters and makers by visiting the Tenino Holiday Market.
The Tenino Area Chamber of Commerce created the Tenino Holiday Market which takes place in the historic Campbell and Campbell building in downtown Tenino at 225 Sussex. There are 28 vendor booths featuring hand-crafted gifts, distinctive decor and elegant treats created by area artisans. There is also be a raffle that includes items from many of the artisans and area merchants.
The Tenino Holiday Market, which opened in November, will conclude its run as an in-store retail experience with six final days of operation in 2020; Friday through Sunday, December 11-13, and Wednesday through Friday, December 16-18. The Market is open from 10:00 am. to 5:00 p.m.
"We have had a great turn out of visitors from up to sixty miles away and our artisans are very pleased with how the market has gone and the items they have sold. We have more than 40 area artisans' works for sale in a wide variety of items from Fine Art to Chocolate Bombs," said Donna Taylor-Mayo, co-chair of the Market.
The Holiday Market will raise funds for the Chamber to provide matching funds to a grant the City of Tenino received to pave the City parking lot in the downtown core. Tenino was recently certified as a Washington Arts Commission Creative District.
"We were so appreciative of what Donna has done for the Chamber and community and have named her our Tenino Area Chamber of Commerce 2020 Volunteer of the Year. She got to flip the switch on the Tenino Christmas Tree Lighting on December 5," said Joyce  Worrell, Tenino Chamber President.
The Market follows COVID-19 Safety Guidelines; taking guest's temperature, requiring facemasks, limiting the number of guests entering the building and providing hand sanitizer and masks.
The Tenino Holiday Market is supported by the Thurston Economic Development Council South Thurston Economic Development Initiative (STEDI) staff member George Sharp.
WHO: Tenino Area Chamber of Commerce, Thurston EDC STEDI
WHAT: Tenino Holiday Market
WHEN: Friday through Sunday, December 11-13 and Wednesday through Friday, December 16-18. The Market is open from 10:00 am. to 5:00 p.m.
WHERE: https://www.facebook.com/TeninoHolidayMarket