South Sound Real Estate Forum 2022
September 22 @ 11:00 am

-

1:00 pm

|

$50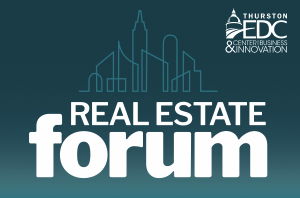 The 14th Annual South Sound Real Estate Forum presented by the Thurston EDC will showcase Thurston County real estate trends and properties while providing a forum for information sharing and networking.
This in-person Real Estate Forum will display our beautiful and vibrant community's commercial, retail and industrial properties while providing a forum for expanding networks and discovering new opportunities. Industry experts will address the status of development in Thurston County and the South Sound region.
The Real Estate Forum will include data and trends related to commercial real estate and development in the South Sound, providing attendees with the latest projections for commercial, industrial, retail and multi-family properties. Experts will address what makes Thurston County such a unique market and why it is one of the fastest-growing regions in the United States.
Attendees will leave with a better understanding of how the pandemic of 2020 through 2022 impacted development, both residential and commercial.
The pandemic pushed Residential markets and confirmed the reality of remote and telework that extended new market access to many buyers.
The pandemic pushed the "development bubble" out of the central core of Seattle-based distribution networks driving new commercial development into a regional goods and freight mobility market.
The 2022 real estate forum will examine those trends and will identify how these trends are driving new development opportunities.
—
When: September 22, 2022
Time: 11:00 am – 1:00 pm
Register Here!
For more information, contact: Holly House