Ways to Grow & Fund Your Small Business
November 9, 2022 @ 4:00 pm

-

6:00 pm

|

$5 – $20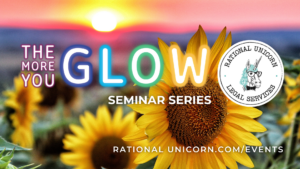 Whether you are bootstrapping your business, seeking a grant or loan, or seeking investors, this is the event for you. Come join Rational Unicorn Legal Services for this panel discussion on small business financial resources. You will hear from an advisor, investor, lender, grantor, and community programmer about different ways you can access capital for your small business. We'll be turning to experts in different areas to discuss resources for funding your small business.
Who should attend this class? Business owners or sole proprietors at all stages of operation.
If you have specific questions or topics of inquiry you'd like to submit prior to the class please use this form!
Who will be there?
Presenter Bios:
Ronesha Hayes, owner of Hayes Consulting and Coaching, has a main goal is to help individuals reach financial wellness by providing education and coaching. She started Hayes Consulting and Coaching to help clients realize their full potential by helping them understand credit, budgeting, and finances. She believes once everyone has access to this information generational curses will begin to break and allow for people to be more comfortable talking about money. Ronesha was born and raised in Portland Oregon. In her free time you can find her cycling, gardening, and enjoying time with her family.
Oscar Novelo, Senior Business Finance Officer of Prosper Portland, has worked with small business owners as a lender and advisor. He has also worked as a project manager on affordable housing and commercial redevelopment projects. Oscar earned a bachelor's and master's degree from the University of Southern California, and a certificate from the National Development Council as an Economic Development Finance Professional.
Ashton Ramirez is an Account Executive and an Issuer Development Officer at SMBX and has a goal of helping Black-owned, woman-owned, LGBTQA+ owned, and minority businesses thrive to their fullest potential. SMBX helps small businesses in the community (like Mirisata and Culmination Brewing) raise capital by issuing bonds to investors within our community, keeping that wealth here in PDX. When Ashton is not working, you can find him at 1000 Acre Dog park with his dog, Dune, or exploring different coffee shops in the city.
Aldo Medina is the Business Services Program Lead for Craft3. Prior to joining the Craft3 team in June 2021, he served as the Mercado Programs Director for Hacienda CDC in Portland, Ore. Aldo grew up in Los Angeles, CA and is a proud immigrant from Cuautla, Morelos, Mexico.
—
Cost: Community Pricing $5, $10, $20 (For our webinars, we use "pay what you can" pricing to be accessible to the community.)
Discount code available for WCWB clients through October 15th.
Take 25% off with promo code: WCWB
—
When: November 9, 2022
Time: 4:00 – 6:00 pm
Register Here
Location: The Factor Building at 226 SE Madison St. Portland, OR 97214
For more information, contact: Quinn Richards | 971.770.1714
Share This Story, Choose Your Platform!