Harbor Wholesale Thrives Despite Pandemic & Seeks Workforce to Sustain Growth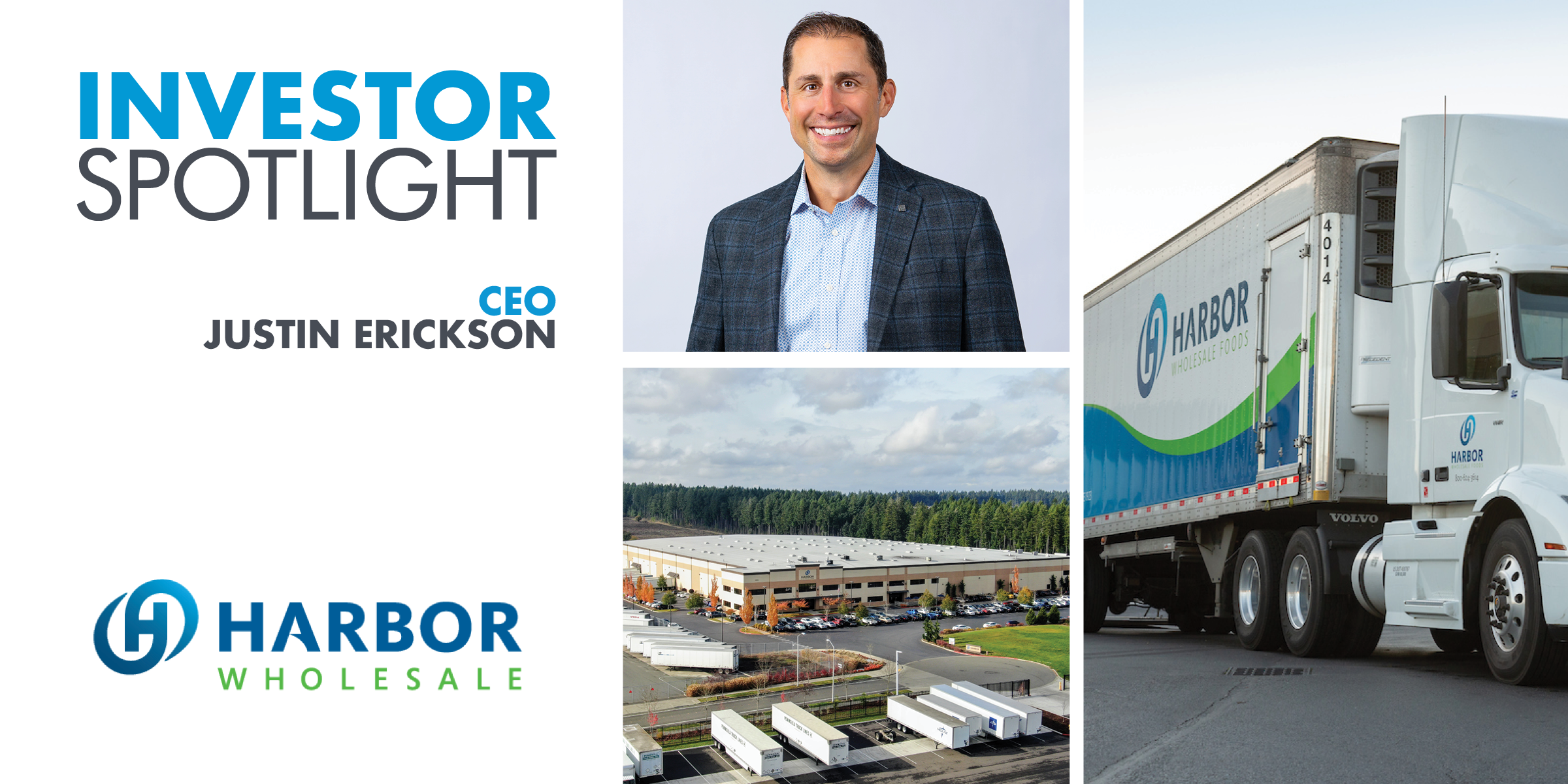 We recently sat down with Justin Erickson, CEO of the Harbor Food Group – and a Thurston EDC Investor, to learn more about his business. Enjoy our conversation below!
How long have you been in business?
Harbor is a 4th generation family-owned food distribution company started by Carl Erickson, my great grandfather in Aberdeen in 1923.
In my father's time, Harbor moved to Tumwater in the '80s.
What is your product, and who is your customer?
Today, Harbor is headquartered in Lacey and is the largest independent distributor in the Northwest. Harbor Wholesale serves retail clients such as convenience stores, neighborhood markets, and quick-serve restaurants.  The newer Harbor Foodservice division serves restaurant accounts.  Together they now form the Harbor Food Group.
Tell us more about the Harbor Foodservice division.
In 2019, when US Foods was acquiring Food Services of America (FSA), anti-trust laws came into play, and they had to divest the Seattle branch of FSA, as there was deemed to be not enough food service competition in the Pacific Northwest.  Harbor seized this opportunity and was able to acquire the FSA distribution center in Kent.
And then COVID hit?
Yes!  We bought this business right before the pandemic hit. When we learned that restaurants would shut down and people were required to shelter in place, we had to deal with these completely unforeseen circumstances. There is always risk in taking on a new business, but we did not see this coming. We weren't sure what the impact was going to be, but we were 100% committed to the success of this acquisition.  And also 100% committed to treating these new FSA team of workers as our family.
We were fortunate that Harbor Wholesale has performed well throughout the pandemic because retail accounts like convenience stores and neighborhood markets were deemed essential businesses. The need to service these accounts was larger than ever. The success of Harbor Wholesale helped support the new foodservice division and keep these employees employed.
What has been your biggest challenge to date?
Today, Harbor's most significant challenge is with workforce. Lacey has a very competitive labor market right now.  Our operations are running into the same roadblocks- attracting enough talent to pick orders and drive trucks.
How are you responding to this challenge?
We're offering signing bonuses, and we continue to find ways to differentiate and stand out in the crowd while making sure that we are taking care of our existing team members who are putting in excess hours and overtime.
We work hard to treat our team as family.  We hope that people come to Harbor to make a career out of it and not just a job. We are constantly trying to find ways that people can grow within our company. We believe that people want to feel that the work they do has some value beyond a paycheck. One thing we found through the pandemic is that the work we do is important. We are deemed essential. We make a huge difference in making sure the small businesses we service are taken care of.
What inspires your work and sets you apart from the competition?
Our heritage and history in this region, and being a true family-owned business.  We see being headquartered here locally as our competitive advantage.  We were the first distribution center in Hawks Prairie, and now we have quite a few neighbors.  But we are the only one where the decision-makers are local, where the owner is directly involved.
What's next on the horizon for Harbor?
The industry is still far from normal. The supply chain is still disrupted. Restaurants are having a hard time getting products to serve their customers and finding labor to work. We are not out of this yet.
Meanwhile, retail continues to do well. We recently acquired another food distribution company in Portland and will continue to look for opportunities.
We are embracing this disruptive time to look for opportunities in the future.  Times of disruptions are when big shifts happen in all industries, good or bad. When you are open-minded, that's when opportunities arise.