Investor Spotlight: A Conversation with Lucky Eagle Casino & Hotel CEO JaNessa Bumgarner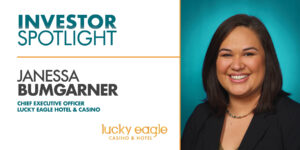 We recently had the chance to talk to JaNessa Bumgarner, Chief Executive Officer of Lucky Eagle Casino & Hotel. JaNessa is a Chehalis Tribal member who grew up on the Chehalis tribal reservation in Southwest Washington. She has worked in a variety of roles at Lucky Eagle, beginning as a busser and working her way into a marketing position. In July of 2020, she was named CEO and is honored to be the first Chehalis Tribal member to serve as the Chief Executive Officer of Lucky Eagle Casino & Hotel, which is celebrating 25 years in business this year. Below are some highlights from our conversation. Enjoy!
Thurston EDC: How long have you been with Lucky Eagle?
JB:  Nearly 17 years
Thurston EDC: What were you doing before you started there?
JB: Lucky Eagle was my first job. I started as a busser and worked my way into marketing. I took a quick break and worked at another casino as a catering coordinator and came back to Lucky Eagle and I've been here ever since.
Thurston EDC: Do you have a business or personal mantra or an inspirational quote you'd like to share?
JB:  "Productivity is being able to do things that you were never able to do before." – Franz Kafka
Thurston EDC: What sets Lucky Eagle apart from its local competitors?
JB: Technology. We just recently added more lighting to our floor to create a more fun experience. Because of our technology, we can redesign our floor easily, and this helped us during our closure. Just a few years ago we changed our player rewards program and our guests can now cash out their points. We also have EMT's on our staff and can react quickly to medical issues.
Thurston EDC: Has the Lucky Eagle done anything unique or special to meet pandemic-related challenges?
JB: We are very proud of our mitigation efforts during this time. We added over 100 hand sanitizers and increased our sanitization efforts. But during this time, we have remained loyal to our community and team members. We just distributed "years of service" checks to nearly 400 team members who qualify and we continue to donate and sponsor local events and charities.
 Thurston EDC:  Why does the Lucky Eagle invest in the EDC?
JB: Lucky Eagle has always wanted to be a good neighbor to our surrounding communities, and that starts with meaningful involvement and investment.