Investor Spotlight: FASTSIGNS®-A Conversation with Owner Grace Kendall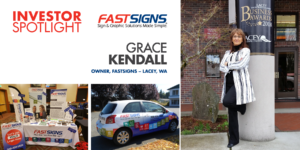 We recently had the chance to talk to Grace Kendall, owner of FASTSIGNS®. After 24 years in the military, Grace chose to join the company based on their well-respected brand recognition and the industry's growth potential. Below are some highlights from our conversation. Enjoy!
Thurston EDC: How long have you been in business?
GK: FASTSIGNS® of Olympia-Lacey has been in business since 1998, and we purchased the center in 2000. I have been the sole owner since 2002. Overall, the center has been providing the community with signs and graphics for 20 years and 3 months.
Thurston EDC: What is your product and who is your customer?
GK: We are a locally and independently owned and operated sign, graphics and visual communications company that serves Business to Business (B2B) clientele. We are Consultants who provide comprehensive visual marketing solutions to customers of all sizes—across all industries—to help them attract more attention, communicate their message, sell more products, help visitors find their way and extend their branding across all of their customer touch points. From decals, banners, magnets, A-Boards to vehicles, trade shows signs, architectural ADA signs, monuments, electrical: cabinet, halo, channel letters and logos, and everything in between. My customers are Construction Contractors, Schools, Universities, Property Managers, Government, Hospitals, Health & Medical Industry, Businesses, Casinos, Retail spaces, and more.
Thurston EDC: What inspired you – or your founders – to start the business?
GK: The previous owners at the center were looking to relocate when the business was less than two years old. I could see the opportunity in this business as my retirement from the military, a 24-year career in the Army, was approaching. This was an industry where I could help businesses by becoming a partner in assisting them with accomplishing their goals. I chose FASTSIGNS®, because of the well-respected brand recognition and the growing list of awards and high ratings it receives. I could see the industry was strong and there was also room for growth. As 2020 proved, the sign industry has become increasingly relevant for everyone.

Thurston EDC: What inspires your work and sets you apart from the competition?
GK: What inspires me is helping and educating my clients on what product is most effective based on their needs and budget. My staff and I are consultants who assist our clients in determining what is best to accomplish their visual communication needs. Because of this, our tight-knit team at FASTSIGNS® excels in customer service by providing signage needs in a quick turnaround time while also solving our customers' needs. We take our time to ask our customers questions and really learn what they're wanting to accomplish, so we can provide a detailed list of options from low to high end for them to choose. We schedule individual appointments to truly focus on each customer and how we can ultimately fulfill their needs.
Thurston EDC: What has been your biggest success to date?
GK: I am truly blessed because there is not one thing that is my biggest success. My combined successes show the success I am most proud of – who I have become. I am a mother, grandmother, a soldier defending my country for 24 years, and a small business owner who grew this company. Coming from my background and what people used to say about me, I would have never believed that I would or could have owned a successful business where everyone knows my name, especially construction contractors. I love performing on construction contracts. It really gives you the opportunity to show your client what you are capable of. In my personal life, some of my biggest joys include dancing, traveling and experiencing new cultures. Anyone want to go skydiving?
Thurston EDC: What has been your biggest challenge to date?
GK: When I first bought the business, the challenge was learning business since I had only been in the military. Over the years, my biggest challenge has been and remains hiring talented people. This business is about caring about clients, attention to detail, being creative, and being a problem solver in a timely manner which equates to sales. In addition to that, another challenge has been reaching the larger companies and explaining everything that we can do. While running a business is a constant learning experience, I am given great support to succeed by everyone in the FASTSIGNS® network. I feel so blessed to be where I am in life and to have this business.
Thurston EDC: What does your typical workday look like?
GK: Now my workday starts with a cup of coffee, emails, and phone calls before I even leave home. I schedule any outside sales calls or site surveys before I get to the office, because once I'm there, it is hard to leave. After arriving at the office, I check in with the staff and see what assistance they may need and discuss any pressing issues. This usually takes up a good portion of the day. Any work or estimates that I need to get out come after everyone has left for the day. Most days, I don't leave the office until late into the evening, and then I go home and start all over the next day.
Thurston EDC: What is your best advice for an aspiring entrepreneur?
GK: Where I grew up, girls were expected to become homemakers and mothers. Due to family circumstances, I was placed in a foster home at age 16. After receiving my GED at age 17, I wanted to travel and make a different life for myself. In 1976, I was one of the last groups of women to enlist as a WAC (Women's Army Corp) in the United States Army. Going to basic training was the first time I traveled on an airplane, the first time I left Missouri and the first time I went anywhere by myself. It was scary and eye-opening, which brings me to my advice. No matter where you come from or what the past looks like, continue to look to the future. Don't let fear of new experiences, change or failure stop you from jumping out there and starting a business.
Thurston EDC: Do you have a business or personal mantra or an inspirational quote you'd like to share?
GK: Here is something I've always felt, so when I found this in some quotes I have collected over the years, it just fit me. I believe anyone who wants to own their own business needs to believe in this quote. "Success is not final; failure is not fatal: it is the courage to continue that counts." – Winston Churchill
Thurston EDC: Is there a common misconception about your business within Thurston County that
you'd like to address here?
GK: A common misconception is that we are just a sign company, but we are more than that. We are more than fast, more than signs. We are a visual communication company made up of sign experts that can help grow your business. I'm always told by people I meet in the community "I didn't know you could do that." Signs have the amazing ability to do three important things: 1. Direct 2. Inform 3. Sell. If the answer to any of your needs falls in one of these three categories, we can help.