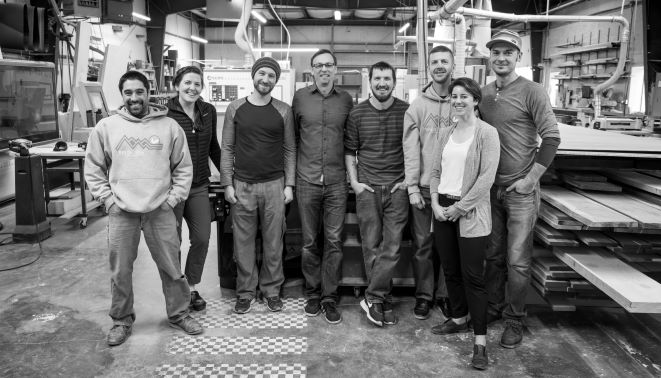 What is your product and who is your customer?
We build high-quality cabinetry from healthy materials.  We have had clients from all over the PNW but primarily we build for clients in Olympia, Tacoma, Seattle, and Bellevue.  We serve both commercial and residential clients.
What inspired you – or the founders –  to start Beech Tree Woodworks?
It was an organic journey that led me to where I'm at today.  My journey began simply with a love of wood and woodworking.  I love the process of building and creating something to cherish from raw materials.
What inspires your work and sets you apart from the competition?
We are really proud of our attention to detail and the quality of our product.  Designers and architects keep coming back to us because of that.  We genuinely care about our relationships with clients.
What has been your most significant success to date?
I am extremely proud of our growth in the last couple of years.  We've gotten to the place I imagined when I started this shop.
What has been your biggest challenge to date?
I'm grateful for growth but it's definitely been our biggest challenge.  Moving from my garage shop to a commercial space was a big leap and a steep learning curve, but we did it!
What does your typical workday look like?
I arrive each morning and check in with my team to make sure everything is running smoothly.  Then I check in with clients to make sure all their questions are answered.  I spend the rest of my day conversing with new clients who contact me to find out what Beech Tree Woodworks can do to make their vision come to life.
What is your best advice for someone for an aspiring entrepreneur?
Seek out business counseling from the EDC!  They helped me with every facet of my business.
Do you have a business or personal mantra or an inspirational quote you'd like to share?
"Any frustration is due to a lack of systems." I work hard to cultivate systems that ensure that we never drop the ball and business runs as smoothly as possible.
Is there a common misconception about your business within Thurston County that you would like to address here?
People often miss the fact that we are physically building every piece of cabinetry or furniture we deliver and we build it to last.  We can't be fairly compared to a cabinet out of a box.
Learn more: https://www.beechtreecustomcabinets.com/