INVESTOR SPOTLIGHT: PRINT NW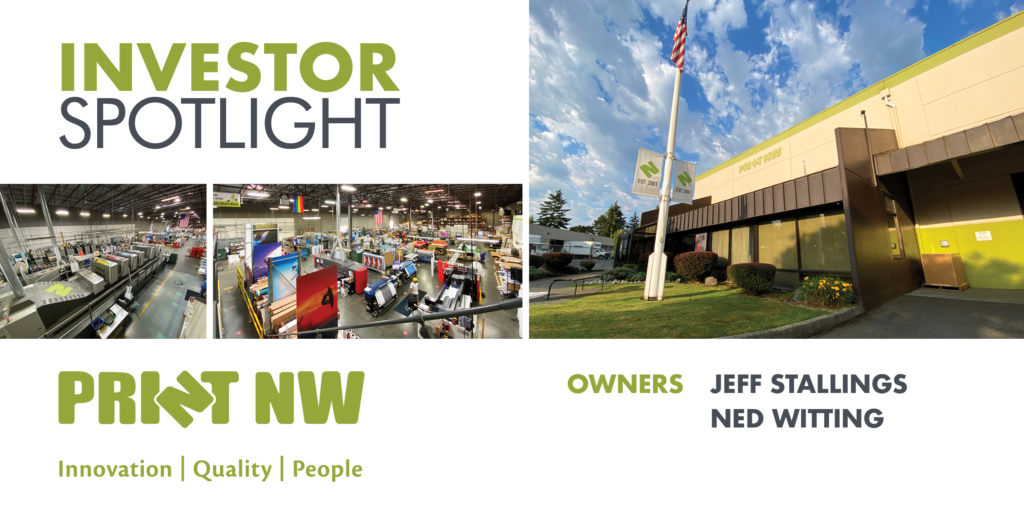 Print NW is the largest commercial printer in South Sound and the seventh-largest in Washington State. Owners Jeff Stallings and Ned Witting credit their growth to industry diversification, a terrific workforce, forward-thinking technology investments, and a blend of employee experience and energy. In October, Print NW will celebrate its 20th anniversary. We caught up with the team recently and asked them a few questions! Here's our conversation.
Thurston EDC: Tell us about your products and customers. 
Jeff Stallings, Print NW: Our products and customer have changed over the years as we have evolved. Our target customer tends to be a business eager for growth in today's climate, whether that be solidifying consistent, quality branding or leveraging our print, apparel, or promotional capabilities to carry their message throughout all media. 
Thurston EDC: What inspired you – or the founders – to start your business?
Jeff Stallings, Print NW: We were inspired to provide great jobs to great people. Over the past 20 years, this has continued to remain our priority. When hard-working individuals care about their work and their product, it ultimately translates to the outcome. 
Thurston EDC: What inspires your work and sets you apart from the competition?
Jeff Stallings, Print NW: We listen to our customers and act upon their needs better than anyone. Over the years, we have diversified our offerings and the industries we cater to because we wanted to provide better solutions to our customers. We're all invested in the success of our customers.
Thurston EDC:  What has been your most significant success to date?
Jeff Stallings, Print NW: I don't think you can measure success with a "BIG" moment. To me, success is an ever-changing long-term state driven by the overall happiness and satisfaction of the employees, customers, and communities in which we serve.
Thurston EDC: What has been your biggest challenge to date? 
Jeff Stallings, Print NW: Much like other businesses' ability to pivot during a global pandemic, we find the most significant challenge we face is preparing for the future by making short and long terms plans. With Washington State's day-to-day shifts in regulations, we find it hard to navigate these legal waters as they impose many obstacles for businesses. 
Thurston EDC: Tell us about your typical workday.
Jeff Stallings, Print NW: Every day is different; I work hard to support my employees in whatever projects they are attacking and am not afraid to get my hands dirty every now and then if a department needs an extra hand. 
Thurston EDC:  What is your best advice for someone aspiring to be an entrepreneur?
Jeff Stallings, Print NW: Focus on building a great team, establish a company culture that aids to their creativity and drive, and always plan for the future.
Thurston EDC:  Do you have a business or personal mantra or inspirational quote to share?
Jeff Stallings, Print NW: "If you fail to plan, you end up planning to fail."
Learn more about PRINT NW here: https://printnw.rocks/