Thurston EDC Staff Tour Island Enterprises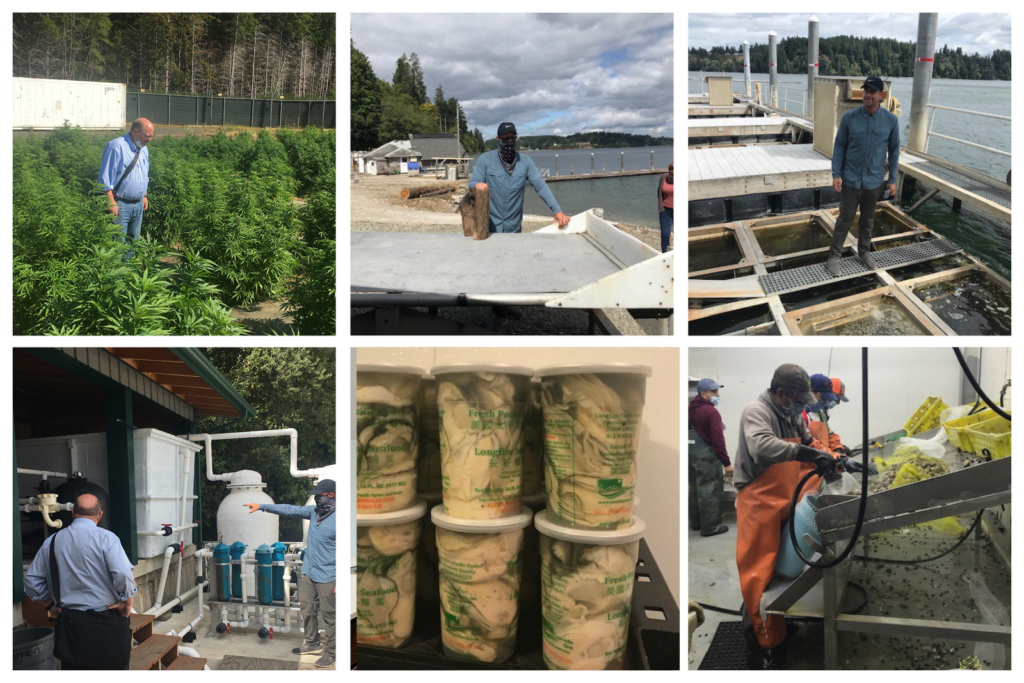 In early September, Thurston EDC staff had the opportunity to tour several Island Enterprises Inc. (I.E.I.) enterprises, the economic development arm of the Squaxin Island Tribe.
The tour helped the EDC get to know Island Enterprises Inc.'s business lines and staff, to develop a stronger relationship/partnership, look for ways we can serve/partner, and understand their current operations so that we can better assist as the tribe looks to expand enterprises into Thurston County, as expanding their economic footprint into more of their traditional lands is a priority of tribal leadership.
The tour included stops at the following Enterprise locations:
Native Sun Grown (cannabis farm)– Master Grower, Nick Brown
The Squaxin Island Tribe broke ground for Native Sun Grown in March of 2017.  This is the first tribal marijuana grow site in the State of Washington, consisting of 5+ acres situated on the Olympic peninsula northwest of Olympia, Washington. The Squaxin Island Tribe has a long and storied history of farming the tidelands of South Puget Sound, which is still being written today. With stewardship and respect, transitioning to upland farming integrates seamlessly with Squaxin's other operations. NSG provides sun-grown outdoor Grade A product to Washington State's recreational market.

Elevation (cannabis retail store)– Store Manager, Michael Ogden
Located on the Squaxin Island Indian Reservation, Elevation is the first retail cannabis shop to open on tribal land, marking a historical moment for the tribe and the I-502 system.
Kamilche Trading Post
Kamilche Trading Post opened its doors in the 1970′s, starting out as a small tribal smoke shop. It has progressed into a full-service tribal convenience store throughout the years, offering tobacco, wine, spirits, gas, and more, all with competitive prices. Take part in the newest and tastiest addition to KTP! Enjoy fresh, authentic Mexican food prepared fresh by local Taqueria Las Palmas.  Voted best Taqueria in Mason County, owners Miguel and Monica Ramos prepare their most popular dishes fresh to go at KTP! If you need to grab a few things for dinner on your way home, check out the Salish Seafood's cooler with fresh local seafood such as delicious Puget Sound oysters, clams and more!
Clam Fresh (shellfish nursery)– Manager, Tyler Johns
Formerly known as Dahman Oyster Company, Clam Fresh was purchased by the Squaxin Island Tribe in October of 2016. Clam Fresh's main office, land-based nursery, greenhouse and FLUPSY are located on Totten Inlet. 15 acres of tidelands for shellfish farming were included in the acquisition, where Pacific Oysters and Manilla clams are farmed.
Salish Seafood – Operations Manager, Rod Schuffenhauer 
Formally known as Harstine Oyster Company, Salish Seafoods was purchased by the Squaxin Island Tribe in the early 1970s. Today Salish Seafood grows oysters on 41 acres of tidelands on pristine Squaxin Island, uninhabited tribal reservation land. Salish Seafoods is located on 5 acres of uplands on Harstine Island adjacent to 5 acres of tidelands. Our primary shellfish farm, Squaxin Island, also geographically located in South Puget Sound, is one-half mile due west of our main facility. Squaxin Island is approximately 6 miles in length and up to one-half mile in width.
Skookum Creek Distributing (distribution operation serving Skookum Creek Tobacco factory) – Distribution Manager, Daryl Owens
Skookum Creek Tobacco is a small tobacco manufacturing company located about 20 minutes west of Olympia, in Shelton, WA. Located in the lush rainforest landscape of the Pacific Northwest, Skookum Creek Tobacco, a 100% tribally-owned entity, operates on a federally recognized Indian Reservation. The factory was formed to diversify tribal enterprises to help ensure the economic future of the Squaxin Island Tribe. Profits from Skookum Creek are designated to support crucial infrastructure such as health care, education, economic development and provide vital employment opportunities for tribal members.
Learn more about each of the enterprises here http://islandenterprisesinc.com
Top left, Michael Cade touring Native Sun. Top middle, right and lower left, Clam Fresh manager, Tyler Johns, is explaining the enterprise. Lower right: A tour of Salish Seafood, thanks to Operations Manager, Rod Schuffenhauer.