Kaufman Construction & Development Inc. Takes Residence in New Headquarters Building in Tumwater
Kaufman Construction & Development Inc. recently took residence in their new company headquarters in Tumwater at the end of the summer. Kaufman has been designing, developing, constructing and leasing property in Western Washington for over 50 years. They serve Thurston, Pierce, Mason, Lewis and Grays Harbor Counties and have recently partnered with the Tumwater Warehouse District to support local brewers, bakers, distillers and cider-makers.
"Completing the new headquarters ended up being close to a ten-year process," says Theresa Wall, Vice President at Kaufman. "This project is when we first discovered we had the protected Mazama pocket gophers as well as several other hurdles with the pandemic being one. The new office has been something we've talked about and been planning for a very long time so it makes it all the sweeter to finally be in here." Kaufman is the only tenant in the building, which has plenty of room for additional growth and expansion and is located in closer proximity to their inventory of projects. Additionally, the location is more centrally located for employees and many of its clients.
"It's been a process of shedding a lot of the paper and materials that accumulate over 50 years in one location, but we are getting settled in the new space and are excited to see so much growth and expansion in the area and look forward to the road ahead," says Wall. For more information about Kaufman Construction & Development, Inc. visit: https://www.kaufmancd.com/.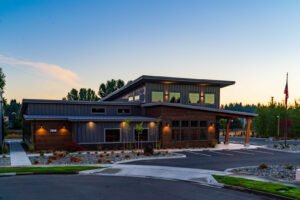 "The new office has been something we've talked about and been planning for a very long time so it makes it all the sweeter to finally be in here." -Theresa Wall, Vice President, Kaufman Construction