Lacey MakerSpace Awarded $1M Federal Grant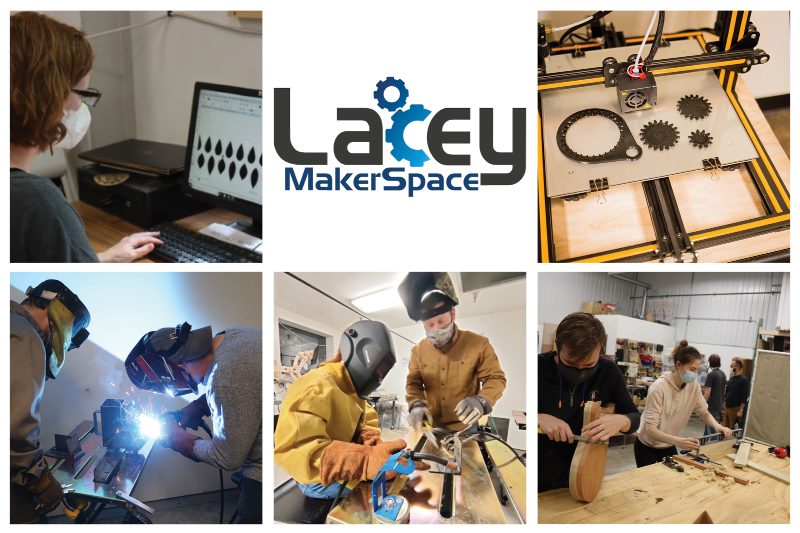 Lacey MakerSpace (LMS) will receive a $1 million grant from the U.S. Department of Commerce's Economic Development Administration, thanks, in part, to support from U.S. Senator Maria Cantwell, Chair of the Senate Committee on Commerce, Science and Transportation.
In partnership with the Thurston Economic Development Council Center for Business & Innovation (CB&I), the City of Lacey, and Saint Martin's University, LMS operates as an innovation lab for small business owners, artists, and entrepreneurs in Thurston County and the greater Southern Washington region.
"Most of the federal grant funds are earmarked to purchase advanced fabrication equipment and software and to develop skills-based training programs in high demand by industries in the region," said Michelle Pope, LMS's director. Grant funds will be dispersed over three years. Much of the larger fabrication equipment will be purchased later in 2022 as the space needs upgrades in utilities and size.
"This $1 million grant will help spur innovation and support small businesses in South Puget Sound. The Lacey MakerSpace aims to build a diverse entrepreneurial ecosystem that provides local artists, and small businesses access to highly technical fabrication tools and educational resources," said Cantwell (D-WA), who wrote a letter in August 2020 in support of Lacey MakerSpace's grant application. "This grant will allow the Lacey MakerSpace to purchase state-of-the-art equipment to continue providing workforce training to help workers and small business owners gain the skills they need to recover from the impacts of the COVID-19 pandemic."
"The pandemic showed just how overdue investments in our workers and local economies are, which is why I am so glad to see this critical funding go to innovative training programs in Western Washington that will promote job growth, get people back to work, and ensure that we have an economy that works for everyone," said Senator Patty Murray. "Building back stronger and fairer means prioritizing local workforce development – and I'm going to keep working to secure investments like this one in Washington state's workers and businesses."
"We want to build back better and do it inclusively. It's why we must invest in workers and families right here in Washington State," said Congresswoman Marilyn Strickland (WA-10). "Thanks to the work of the US Department of Commerce and the Thurston Economic Development Council, this injection of federal dollars for Lacey MakerSpace will have a meaningful impact on our growing and diverse community to create jobs, support innovation, and expand the base of our economy."
"We expect to keep growing on two tracks. The first is supporting community members, budding artists, future makers and innovators in learning new skills and the other helping to attract more industry to the region by creating a pool of skilled workers receiving up-to-date training on modern fabrication and technical equipment," said Pope.
Anyone can participate in Lacey MakerSpace programs by enrolling in a skill-building class or becoming a member, giving users access to over 3,600 square feet of workspace filled with fabrication and prototyping equipment and the support of talented staff to help bring ideas into reality.
Classes regularly offered include woodworking, welding and CNC fabrication, 3-D printing and design, laser engraving, stained-glass construction, resin molding and more. LMS is raising funds separately to make utility upgrades required for the added equipment and extend hours of access and increase quality programming, work not covered by the grant.
According to Pope, this award is a result of the intense and committed partnerships – all focused on supporting our region, our employers and communities.