Local trade opportunities with China continue to grow
EDC trade mission delegation uncovers expanded opportunities for direct investment and business
Trade missions to China have been a part of the EDC's long-term strategy, and taking nearly a decade to create relationships is really paying off.
"This trip was one of the more significant ones," shared Michael Cade, Thurston EDC Executive director and trade mission participant. "It tested the networks we've created over the last nine years, and what we found is they are very deep and meaningful."
EDC President Perry Shea echoed that sentiment saying, "Over the last two years we have crossed a bridge of trust."
Perry said it's reflective in the memorandum of understanding signed with the city of Dantu, and city of Mianyang interest in signing one as well. "We are memorializing our common interests in cooperation to build economic development," said Perry, who is a senior principal at SCJ Alliance. Some of the areas covered by the agreement are interest and mutual benefit in business-to-business activities, foreign direct investment, and trade missions.
This year's trip, over ten days in March, included stops in Beijing, Mianyang, Shanghai, Dantu and Changzhou for the 12 local participants.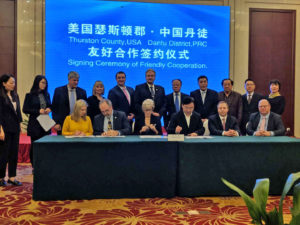 Areas attracting the most interest for direct foreign investment included brewing and distilling, private school development, the IT/telecom industry, and agriculture. "All of these line up well with what we're promoting locally and the economic clusters we've identified and have been pursuing for years," said Michael.
Several business proposals are being explored due to the trip, and the Mianyang municipal government will be traveling to Thurston County later this spring. Additionally, as a direct result of the trade mission contacts, a Chinese investor has already visited our region to look at direct investment opportunities.
For Joanna West, vice president of marketing for Washington Business Bank, it was her first trade mission to China. She is the chair of the Board of Trustees for the Thurston Chamber. "The people that Michael and others had met with in the past seemed thrilled to see him, and us, coming back. The reception was incredible. The relationships had been developed, and they were ready to talk about opportunities in Thurston County," said Joanna. She added, "I am confident that through continued relationship building will come trade opportunities for some of our local businesses as well as direct investment from the Chinese."
China trade mission participants
Michael Cade, Thurston Economic Development Council
Perry Shea, President of Thurston EDC, SCJ Alliance
Lisa Schlender, SCJ Alliance
Leda Li, Thurston EDC – International Business Development Director
Dan Jones, ThurstonTalk, and Thurston EDC Board of Director
Cheryl Selby, Mayor City of Olympia, and Thurston EDC Board of Director
John Hutchings, Commissioner, Thurston County Board of Commissioners
Joanna West, Chair of the Board of Trustees, Thurston Chamber of Commerce, Washington Business Bank
Dru Garson, CEO President, Greater Grays Harbor, Inc.
Dr. Riley Moore, Professor of Economics, Saint Martin's University, and Washington's Pacific Mountain Research Consortium
Cathy Russ, SW Washington Economic Development, Business Consultant
Mike Mattox, Access the USA (joined in Mianyang, and Chengdu)