INVESTOR SPOTLIGHT – Dispute Resolution of Thurston County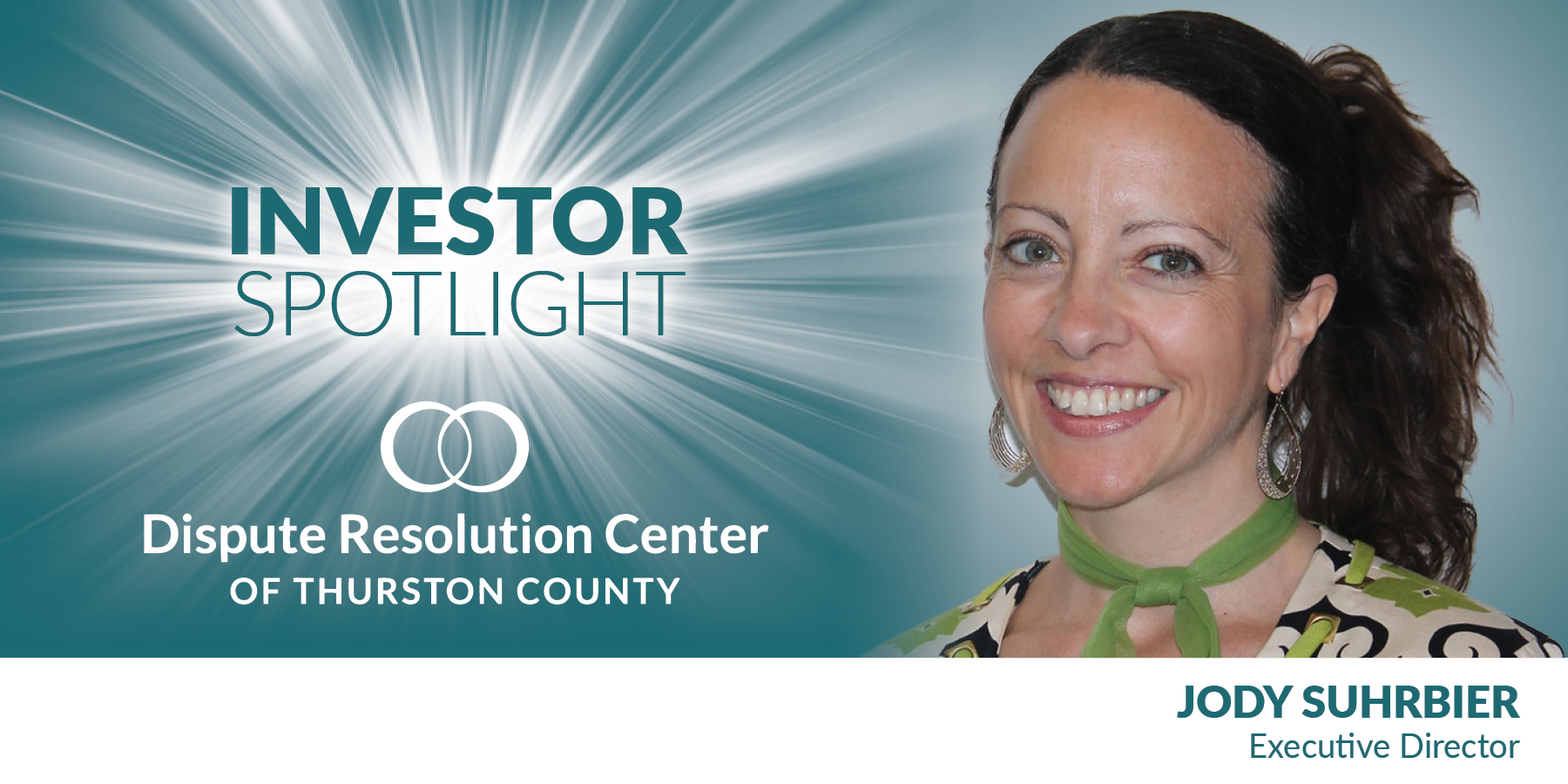 COVID-19 will no doubt affect the overall mental health and wellbeing of employees even beyond the pandemic. During this time, employers and employees need to have access to resources to help reduce stress and provide structure and support. According to public health experts, employers need to understand and take responsibility for their role in the mental health of their employees.
Do you have a workplace situation that you need to address professionally and tactfully? Workplace conflict, lack of communication and incivility are common in many organizations, but they are often ignored or avoided. Unaddressed, they can have significant negative consequences – emotional costs to managers and staff and financial losses:
Staff dissatisfaction and turnover
Decreased job performance and productivity
Poor customer service and lost clients
Time-consuming hassle and stress
Did you know there is a resource right here in Thurston County to address workplace conflict and prevent it, as well as provide training to improve professional communication skills? The Dispute Resolution Center of Thurston County (DRC) offers a growing range of resources to businesses, government agencies and nonprofit organizations to help them resolve conflict, prevent conflict and communicate more effectively.
The center offers Workplace Mediation, Group Facilitation and Customized Training, and new Online Resources for Dispute Resolution, Conflict Coaching, Group Facilitation, and Communication and Conflict Resolution Training.
"Conflict is a part of life," says DRC Executive Director Jody Suhrbier. "The DRC's mission is to provide individuals and organizations with the skills and resources to help them successfully navigate through it. We are pleased to be able to provide new online options to enhance access to these services."
Many local organizations have utilized these services, including the Timberland Regional Library System. "I first heard about the DRC from staff members who were interested in the Healthy Workplace (Conflict Resolution) Training. When I visited the website to learn more, I discovered their other services and trainings," says Lora Boone, Training & Development Coordinator at Timberland Regional Library.
"Our first experience was very well received by my staff. On a scale of 1-5, with 5 being the highest rating, this course received mostly a 5 rating. Staff especially appreciated the interactive format with many opportunities to practice new skills. After the positive experience of working directly with their training manager, Oriana Noël Lewis, and having her present the training for us, the Dispute Resolution Center became my go-to for conflict resolution, anti-racism and facilitation training."
In 2019, The Dispute Resolution Center provided their services during a Timberland Regional Library All-Staff and Strategic Planning Retreat. "Our organization was experiencing significant challenges around communication, trust and transparency.  In order to succeed at planning our new strategy, we needed to lay a foundation for healing to occur. The DRC provided ongoing training in facilitating difficult conversations prior to the event, helping us to prepare for the conversations to come," says Boone.
"Then, they opened the retreat for us with a presentation going over conflict, interests and values to help set the tone for the day. As the organizer for the event, I was very grateful for the experience, wisdom and overall support the DRC provided at a very challenging time within our organization. It was a lot of work; but the event was a success."
In fact, Boone was so impressed that she enrolled in their 40-hour professional mediation workshop to continue to develop her own skills in coaching and facilitating both within and outside of her organization. "I have been able to put some of my new skills to work and am looking forward to being an active volunteer within the organization," says Boone.
"The DRC provides incredible service and support to organizations, communities, and the people throughout. Trainings help employees work better together, communicate, and understand one another better. The DRC shares the power of hope and understanding with all of the community through its training, facilitation and mediation services, but also through the genuine caring and concern that goes into all that they do to make getting along a little better."
Through master contracts with the Washington State Department of Enterprise Services the DRC's services are available to managers and employees of state agencies, city and county governments, local colleges, school districts and many other public and non-profit agencies.
Upcoming online trainings offered by the DRC include:
"Mastering Online Meetings" Workshop, August 11 & 13
"Facilitating Effective Meetings" Training, September 10 & 11
Conflict Happens! Skills to Move Forward for a Healthy Workplace:  Dates TBA
For more information about the Dispute Resolution Center's services and resources for businesses and organizations, call (360) 956-1155, e-mail [email protected] or visit mediatethurston.org/workplace-resources .
Sign up to receive notifications about DRC trainings and resources.