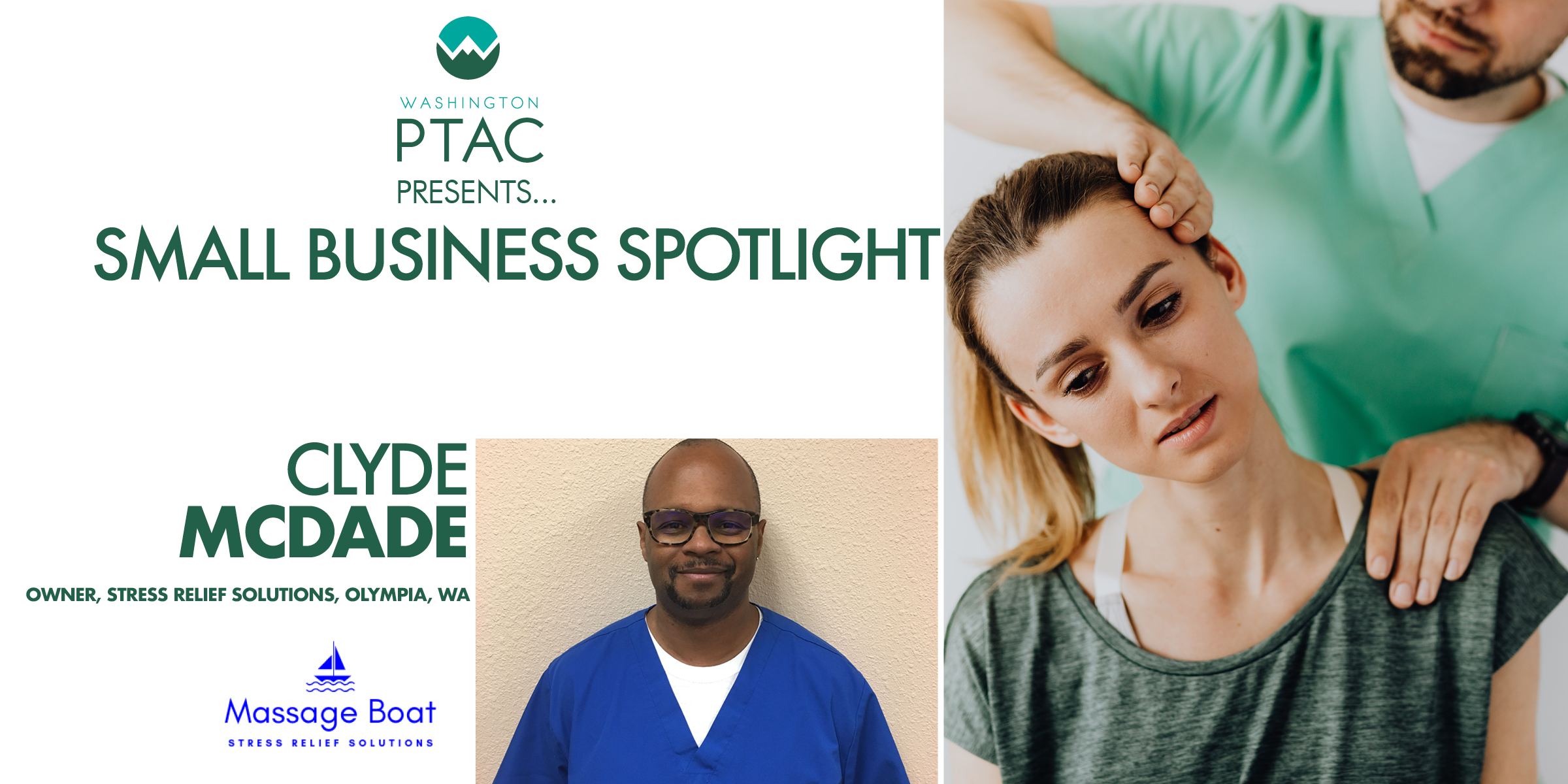 Washington PTAC Presents…
Small Business Spotlight with Clyde McDade – Chronic Muscle Pain Therapist and owner of Stress Relief Solutions. 
We recently had the opportunity to speak with Clyde McDade, a chronic muscle pain therapist and owner of Stress Relief Solutions in Olympia. McDade has owned his business for over three years, and they provide massage to address chronic pain. Their customers are professionals who are under a lot of stress or have been injured in an auto or on-the-job accidents. 
McDade credits his recent success to working with the Washington Procurement Technical Assistance Center (PTAC). 
Thurston EDC: When did you start looking into government contracting?
In 2017, when I decided to return to massage therapy, I started looking at how I could get government contracts for this service. I was frustrated. It didn't appear that there were a lot of contracts out there for my line of work. The process seemed like a maze and very confusing. 
Thurston EDC: How did you learn about PTAC?
I did a local 'SBA Small Business Thurston County' search on Google, and PTAC came up. 
Thurston EDC: How did PTAC assist you?
I called and spoke with Kate Hoy. I made an appointment with her. I met with Kate, and she made the process straightforward. She said, don't start on a federal level; start local. She said there are more opportunities and there were more options. She had me attend the 'Beginning Contracting' class which gave me more clarity. As we were talking during our second meeting, I told her, "Kate, I want to do massage therapy and make contracts, but I want an online teaching component because it is about the system of stress release." Kate said, "It would be better for you to market yourself as a stress-release consultant." "that's when the light came on. I knew I needed a stress-release system, and the light came on." She said it would make it easier to go after consulting rather than offering massage therapy. 

My first contract I received from Employment Security Department, which was cut short due to COVID. It didn't start off as lucrative, but I received clients from it, and also, Kate helped me develop a proposal to get more massage clients. 

 What is your best advice for someone for an aspiring entrepreneur? Kate helped me cut through the weeds. She'll say, "Here's what you don't have to do, what I shouldn't do. She teaches me where to spend my energy and where to go after opportunities. The experience has been great." The value that Kate brought to my business was incredible. The number one thing that Kate and PTAC have given me is confidence. When you are a one-person operation and trying to grow, it is nice to have that. 
Thurston EDC: What inspires your work and sets you apart from the competition?
I created the Stress Release System, which teaches people how to manage stress in their lives. I have an existing system for stress. One piece of the system is massage, but I also teach stretching, and I am building an online e-course. This is for state agencies and companies. 
Thurston EDC: Do you have a business or personal mantra or inspirational quote you'd like to share?
"Whether you think you can or you can't, you're right." Henry Ford. 
A great way to learn more about government contracting is to attend Alliance Northwest. This year Alliance is on a virtual platform on March 11, 2021.
Alliance Northwest is the largest business-to-government conference in the Pacific Northwest. This event features high-quality workshops and matchmaking sessions between small businesses, government agencies and prime contractors.  The event is in its 35th year.  Hosted by Thurston Economic Development Council, home of Washington Procurement Technical Assistance Center (PTAC), Alliance Northwest has a strong history of federal agency support and is widely known as the place where business and government learn and connect with each other.
Who Should Attend?
• Businesses interested in selling to the government and prime contractors
• Prime contractors and government buyers seeking to outreach small and diverse businesses.
Learn more here: https://alliancenorthwest.org/