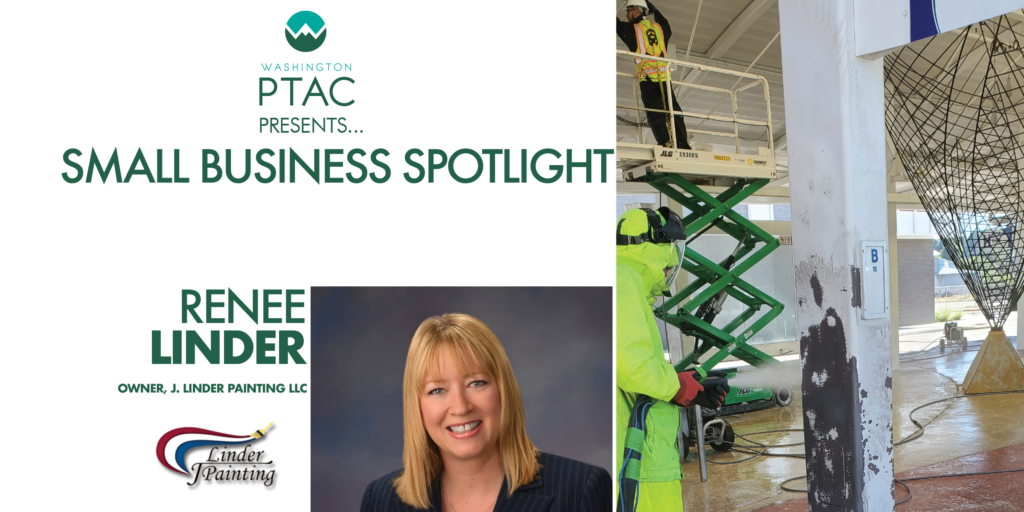 Thurston EDC: Tell us about your business.
Renee Linder: We are a painting and general contractor providing high-performance coatings, pigment sealers, water\anti-graffiti repellents, and exterior and interior painting services. Our customers are large general contractors – such as Turner Construction Company, and we currently hold painting contracts for various state agencies.
Thirty years ago, when my husband Jim began the business, he relied solely on referrals and word of mouth for advertising. He received many projects due to his compassion, knowledge, experience, fairness, and integrity.
I took over running the business in 2017. Our business is OMWBE certified disadvantaged and women-owned.
Thurston EDC: When did you start government contracting?
Renee Linder: Our public works division started in 2017. One of our first public works projects was painting the Shelton branch of the Timberland Regional Library.
Thurston EDC: How did you learn about PTAC?
Renee Linder: I was in the public sector for twenty years. I was familiar with WEBs and how Washington State agencies procure goods and services. When I joined the business, I pursued government contracting and started working directly with Kate Hoy at PTAC.
Thurston EDC: What did PTAC assist you with?
Renee Linder: I started with a one-on-one meeting with Kate Hoy to discuss the direction I wanted to take the business. We developed a strategy, worked on a capability statement, and looked at different sites to search for contracting opportunities.  Kate also gave me the schedule for the training sessions PTAC offered and networking events PTAC sponsored, which I attended. Free training and networking opportunities!!! How can you beat that?
Whenever I receive a request for proposal (RFP) I need help with, I send it over to Kate, and we set up a zoom meeting.  Kate has a lot of experience and insight on different strategies I can use to respond to RFPs. She helped me bid on a public works contract that we ended up winning.  Kate and I have also worked together on RFPs that we ultimately decided were not be a good fit for our company. Understanding what projects you should not bid on is also beneficial.
Kate always makes a follow-up list of items we discussed and sends them over to me at the end of our meeting.  This extra attention to detail helps me stay focused on what I need to accomplish before our next meeting.
Having an educated and knowledgeable advisor is invaluable.  Our company wouldn't be where it is today without the coaching and training I have received from Kate. I hope more businesses take advantage of the services PTAC provides. Our business has been around for 30 years, and PTAC helped me take it to the next level.
For more information, visit https://www.jlinderpainting.com/ or contact Renee Linder at (360) 870-1879 or (360) 456-0485