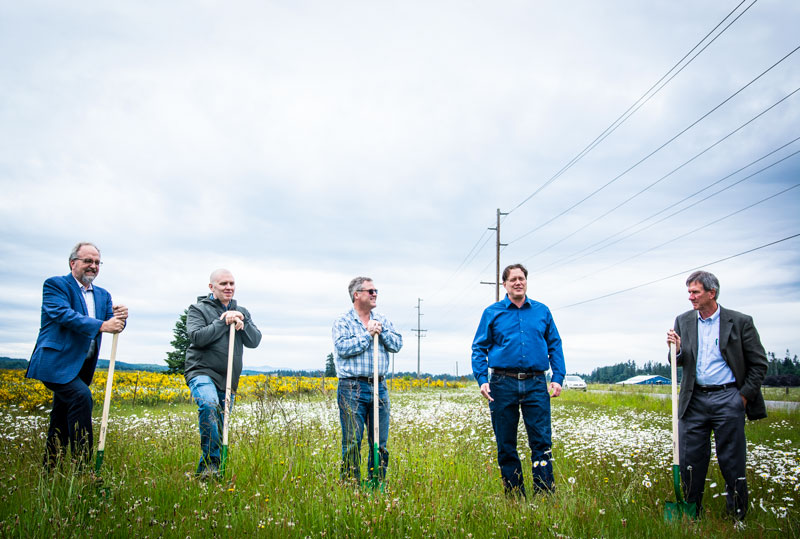 Southwest Washington Agricultural Business Park Breaks Ground in Tenino
This story was originally published on Thurston Talk here.
W
hen it was originally planned, the groundbreaking ceremony for the new 
Agricultural Business and Innovation Park
in Tenino was intended to be a high profile celebration to commemorate a major step toward a more resilient future for regional agriculture. With the outbreak of COVID-19, the June 2 event was limited in attendance by necessity but perhaps brings even more attention to the importance of the undertaking. Representatives from key organizations who have contributed to the project's launch, including the 
City of Tenino
, 
Thurston Economic Development Council
, Washington State Legislature, 
Port of Olympia
 and SCJ Alliance came together at the site to recognize the moment's significance.
The Park will establish a value-added food manufacturing, processing, storage, and packaging facility within the City of Tenino on a 13-acre, city-owned parcel. It will also house a business center to provide business technical support services throughout the region and become an agri-tourism destination, promoted as part of the Thurston County Bountiful Byway. Future phases of the Park will include research and educational components.
City of Tenino Mayor Wayne Fournier is happy to see the Park reach the point where shovels are breaking ground. "This project has been years in the making," he shares, "with a cohesive plan and long-term vision that will pay respect to Tenino's agricultural history, while also paving a way to be a regional leader in local ag production into the future. We are beyond excited to get to the point where shovels are breaking ground. A lot of people have worked really hard for this project to get to this point."
The agriculture industry tends to be dominated by large corporations, Fournier notes, "What we are focusing on here in Tenino is more regional scale agriculture. Helping small and medium-sized producers scale up through value-add processing." One of the goals of the park is to help increase production of local food grown in the surrounding counties of Lewis, Thurston, Grays Harbor, Pierce, Mason and beyond. There are also plans to help develop new markets for the goods produced at the park and assist with local food marketing and branding efforts.
The groundbreaking on the water and sewer extension to the park site was made possible by a Washington State Legislature capital budget appropriation of $600,000. The legislature also approved an additional $1.5 Million, which will go towards the Park's first building. Funding was also made possible for the Park's planning efforts by the Port of Olympia and USDA Rural Development.
A supporter of the project since its early days of conception, Washington State Representative J.T. Wilcox stresses the need for value-added production in the region. "There's a proud tradition of family food production and farming in our part of the state," he says. "We are all sharing an experience right now that is proving how important a diversified and local food system is.  It is my hope that this project will play a part in building the next generation of family farmers, ranchers and food producers in our region."
The City of Tenino owns the site and is leasing it to the Thurston Economic Development Council for $10 per year. "The EDC has invested significant effort and leadership in regional agriculture development over the last 4-and-a-half years," shares Aslan Meade, Thurston EDC's director of strategic alliances and the park project manager. "One of the clearest COVID-19 lessons we are learning is how such a crisis can challenge our food supply chain. The Agricultural Park is just one of the ways we are working to build a more resilient regional food supply chain, focusing on local value-added production. We need to be growing and processing more local food for distribution to the people in our own region."
Once the utilities are installed, next up will be site preparation and the construction of the Park's first building. Initial building design has begun with input from some of the most likely kinds of tenants, which include value-added processors, craft beverage makers and ag-related research companies.
The EDC has been the workhorse moving the Park forward, according to Fournier. A small city like Tenino has limited resources to apply toward any large project. He credits Meade and George Sharp, the EDC's rural program manager, with organizing a Green Ribbon Panel of over 20 stakeholders from local ag-related organizations, the Washington State Department of Agriculture, Centralia College, the ports of Centralia and Olympia and local farmers and ranchers. "They brought in a lot of minds to help identify resources and think through the needs and processes," says Fournier. "We couldn't do that alone. It's been a real partnership with the city and the EDC."
"This project has been an extraordinary example of partnership, with a long list of support and engagement from all sectors- private, public and non-profit," says Meade.  "This wasn't the big groundbreaking ceremony we hoped for, but I want all our supporters to know that you are here with us today in spirit as we take this big step forward towards a more resilient regional food supply chain."
This is one story in a series describing Thurston Economic Development Council efforts supporting regional agriculture development.  Please keep an eye out for our next article describing how the Thurston EDC's Procurement Technical Assistance Center (PTAC) helped Washington food hub businesses connect local farm food with hunger relief efforts through a USDA solicitation and an article about a new Food Hub that will be launching soon to serve the South Sound region.
Learn more by visiting the Thurston EDC's website or calling 360.754.6320.