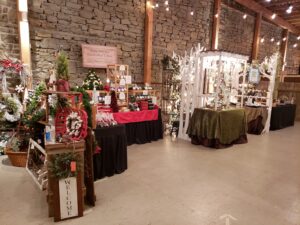 Tenino Holiday Market Scheduled for November and December 2020
Kick-off this decidedly different holiday season by shopping and supporting Tenino's unique and distinct artists, crafters and makers by visiting the Tenino Holiday Market.
The Tenino Area Chamber of Commerce created the Tenino Holiday Market that will take place in the historic Campbell and Campbell building in downtown Tenino at 225 Sussex. There will be 28 vendor booths featuring hand-crafted gifts, distinctive decor and elegant treats created by area artisans. There will also be a raffle that includes items from many of the artisans and area merchants.
"We have worked hard to recruit a nice mix of quality products and artisans for the market," said Market Co-chair and Artisan Coordinator Donna Taylor Mayo.
The Holiday Market will raise funds for the Chamber to provide matching funds to a grant the City of Tenino received to pave the City parking lot in the downtown core. Tenino was recently certified as a Washington Arts Commission Creative District. "We are excited about being a Creative District and wanted to host the Holiday Market to showcase our area creative artisans as well as attract visitors to shop in all of our stores this Holiday Season," said Joyce Worrell, Tenino Area Chamber of Commerce President.
"We are glad to partner with the Chamber to support the paving of the City-owned parking lot and match the grant we have received," shared Tenino City Council Member and Creative District Liaison Linda Gotovac.
Organizers will follow COVID-19 Safety Guidelines; taking guest's temperature, facemasks required, limiting the number of guests entering the building and providing hand sanitizer and masks. There will be one cashier station operated by the Chamber.
The Tenino Holiday Market is supported by the Thurston Economic Development Council South Thurston Economic Development Initiative (STEDI) staff member George Sharp.
WHO: Tenino Area Chamber of Commerce, Thurston EDC STEDI
WHAT: Tenino Holiday Market
WHEN: Open from 10 a.m. to 5 p.m., December 11,12,13 and 16, 17, 18.
WHERE: https://www.facebook.com/TeninoHolidayMarket