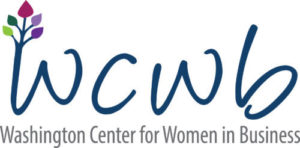 The Thurston EDC's Center for Business & Innovation (CB&I) is pleased to announce that the Wells Fargo Foundation has awarded a significant grant to the Center. The grant award will directly support the CB&I's Washington Center for Women in Business (WCWB) coaching, counseling and mentoring program and enable the WCWB to continue to extend their programmatic reach and counseling throughout the southern portion of Thurston County.
The program provides technical assistance and long-term business counseling to entrepreneurs and supports efforts to launch new businesses and expand markets for existing operations. The WCWB, in its fifth year of operation, has provided technical assistance to over 3,000 clients to date, over 2,500 hours of one-on-one advising and has supported the launching of 17 new businesses since September 2018.
"The grant will provide the financial resources to ensure that these services will continue to be provided to women entrepreneurs and those individuals seeking long term mentorship to grow and sustain their businesses," says Michael Cade, Executive Director of Thurston EDC. "We are so thankful for the support and contribution of Wells Fargo Foundation."
For more information about the Thurston EDC visit https://thurstonedc.com/, Washington Women in Business visit https://wcwb.org/ and Wells Fargo Community Giving visit https://www.wellsfargo.com/about/corporate-responsibility/community-giving/.