Uline latest distribution center to call Lacey home
More than $90,000,000 in wages is attributable to local warehousing and distribution industry.
Uline – North America's leading distributor of shipping, packaging, and industrial supplies – is moving to Hawks Prairie. They are the anchor tenant in the new 97-acre Hogum Bay Logistics Center and are expected to be fully operational by Spring 2019.
At more than 800,000 square feet, the Lacey Uline facility is anticipated to employ about 220 people in roles from sales and customer service, to order fulfillment and distribution. Uline, with 11 distribution centers across three countries, currently has a Washington location in Auburn with three buildings. The move to Lacey allows them to bring everyone together under one roof, enabling greater teamwork and efficiencies.
Uline management expressed excited about moving their operations to Lacey, saying "It's a booming community that offers everything we're looking for in a community partner, including a beautiful setting and talented people."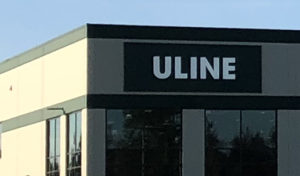 Uline joins a growing number of distribution centers in the industrial area of northeast Lacey, with the largest ones ranging from 200,000 to 2,000,000 square feet. Though employment numbers are tough to confirm, it's estimated that Medline, Target, Trader Joes, Home Depot, Uline, Harbor Wholesale, and Whole Foods (which is under construction), will employee a combined total of about 1,550 people.
Annual employment for that number of employees in this industry is associated with $90,347,762 in wages and $178,025,836 in economic production, according to the IMPLAN I/O model, a tool used by the Thurston Economic Development Council. There are also many other smaller distribution centers in the area whose employment numbers are not included in these estimates.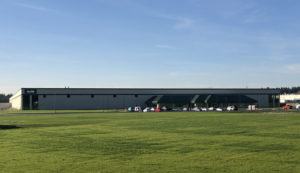 Adding in indirect and induced economic effects, the total economic production, which includes both goods and services, is estimated at $293,196,844. The same tool shows contributions to state and local taxes of $10,196,021.
Why Lacey?
So why Lacey? "There's a handful of reasons," says George Smith, the City of Lacey's economic development coordinator. Not only is the area close to I-5, there is a good network of roads to access it with many notable recent infrastructure enhancements. "And although we have very strict design standards, Lacey's known for having a development process that is clear, predictable, fast, and efficient," said George. "That's really key for developers."
Lacey has also capitalized on other attributes. "We have an excellent labor pool with an educated, cooperative, and highly skilled workforce; a great quality of life and surprising low cost of living; reasonable traffic; and affordable housing," George said, adding that recreational opportunities and schools are also a huge draw.
According to George, Uline was particularly interested in sharing these quality of life characteristics with their current Auburn employees. He was a part of a team of with representatives from the Lacey Parks & Recreation Department, Intercity Transit, Experience Olympia (VCB), and WorkSource that shared information with Uline's current employees.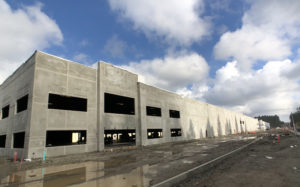 In addition to the Uline facility, the Hogum Bay Logistics Center has another 300,000 square feet of state-of-the-art logistic center space that can be demised down to 50,000 square feet. It is the largest industrial park to break ground in Lacey since 2005.  The entire project, being developed by IDS Real Estate Group, is expected to be completed by the end of the year. Leasing is being led by Evan Parker at Kidder Mathews and Vanessa Herzog of Lee & Associates.
Looking back a bit, prior to 2010 the maximum warehouse size in Lacey was 200,000 square feet. At that time, Harbor Wholesale was looking for a place to build and own a 200,000-square-foot facility with the ability to eventually expand.
According to Rick Walk, Lacey's director of community and economic development, the City did not want to see an existing business with local jobs having to consider relocating outside of the county. The city took the opportunity to study the trends in the industrial market and re-address concerns that had led to the building cap, such as employer diversity, truck trips, and compatibility with adjacent residential areas.
Working with property owner John Teustch, the City increased the maximum size to 500,000 square feet on a 40-acre parcel. With room for future growth, this allowed Harbor Wholesale to invest locally and retain existing employees. A win for Harbor Wholesale, the property owner, and the City.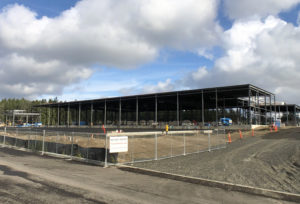 In 2016 Lacey removed the warehouse size restriction completely based on land capacity and anticipating the need for larger space to be competitive in the distribution market.
All factors considered, Lacey appears to have done just that, being a worthy contender in the distribution/warehouse market.