Welcome, Tammie Anders, Finance Manager!
In the Spring of 2019, the Thurston EDC hired Tammie Anders to fill the role of Finance Manager. We asked Tammie a few questions so we can get to know her better!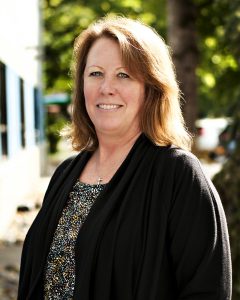 Thurston EDC: Tell us where you come from and about your career before joining us.
Tammie: I am a US Army Veteran that served from 1986 to 1992. My MOS was Imagery Analysis.
I lived in Hawaii for 22 years. I worked for a non-profit in Honolulu called Pacific Health Ministry for 18 years as Director of Operations and Development. It is a 501c(3). I worked directly with the Executive Director and Board of Directors. My responsibilities included fundraising and grant research and writing, budget/financial management, HR management, strategic development, and more.
I moved to Washington in 2012. I was a Church Administrator for Gloria Dei Lutheran Church in Olympia for two years, and then I moved to Marysville, to take on a position as Business and HR Director for a non-profit called InterConnection in Seattle, WA.
In 2017 we decided to move back to Olympia due to I-5 traffic. I took on a position as Full Charge Bookkeeper for a local screen printer until my role now as Finance Manager at the EDC.
My education includes a BSBA from Hawaii Pacific University in HR Management and a CPA Bridge Certificate from the University of Phoenix.
Thurston EDC: Where did you live before moving to Olympia?
Tammie: I am originally from Akron, OH. I joined the Army at 18 and toured Panama, Honduras and finally finished out my enlistment in Hawaii. I stayed in Hawaii after my enlistment in 1992 until finally leaving in 2012.
Thurston EDC: What do you enjoy doing in your free time?
Tammie: I like to hike in the PNW, explore areas of WA and OR since I am relatively new to the NW.
Thurston EDC: How you view the role of the Thurston EDC in the local community, and what do you hope to see from the organization going forward?
Tammie: I view the role as a major playing in business development and growth that ultimately fuels the economy with more jobs. More jobs provided a better standard of living. A better standard of living fuels spending and finally, more spending increases growth not only in the profit world but also the non-profit world. When more money is in an individual's pocket or families pocket, they also tend to donate to non-profits more. More donations to non-profits provide more money or help to those in need.
Business = jobs = spending in community = donations to non-profits = everyone benefits