EventSupport Nominated for an Economic Courage Award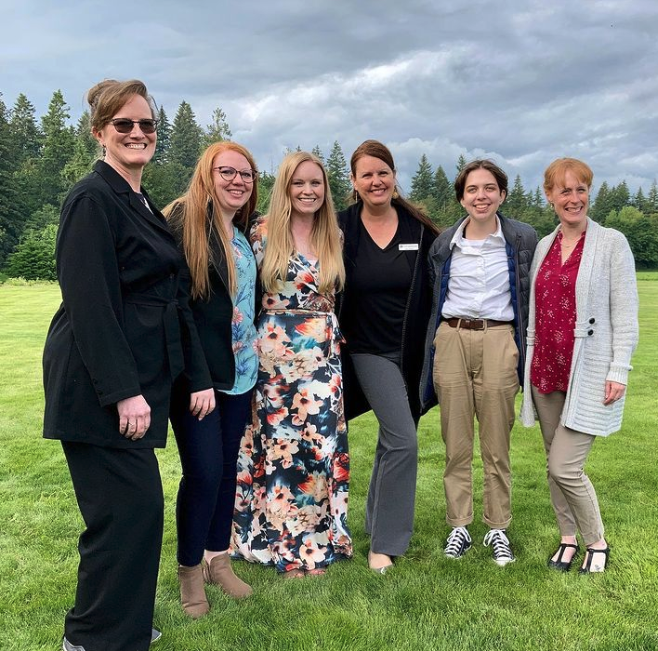 EventSupport planned Nisqually Land Trust's 2022 Conservation Dinner & Auction. Anne Larsen (middle with name tag) with EventSupport said, "We loved getting to help them reimagine a long-standing event to incorporate the natural beauty of the Watershed. Including sourcing products and materials from local farms within the Nisqually Delta and adding a river walk tour to the evening!"
Economic courage could be defined as a leader, a business, nonprofit and or organization that, while facing economic uncertainty and a radical retraction of "business as usual," took extraordinary steps to provide a service, a product, and or a support service that made a positive impact to the community and or employees of their organization. These individuals took economic risks to continue providing a service, product and or resource in the face of unprecedented economic uncertainty. Showing the ability to adapt, change and thrive during uncertainty. The Thurston EDC awarded Economic Courage Awards at the Hootenanny on July 19. Learn more here: https://thurstonedc.com/hootenanny/.
During the past year, EventSupport has shown Economic Courage and has been nominated for an Economic Courage Award.
We asked the team at EventSupport to answer some questions about the past year and how the business took extraordinary steps to impact our community positively. Their answers are below.
What year was your business/organization established?
EventSupport began offering standalone event management services in early 2018.
How many employees do you have?
Four full-time dedicated event management staff. EventSupport also partners with OrgSupport when additional team members are needed for larger events, expanding the available staff to 12.
Is your reach local, regional or national?
EventSupport works with clients from across the county, state, and nation.
What does your business do? What services do you provide?
EventSupport is a full-service event management company working exclusively with nonprofit organizations on all aspects of events – marketing to sponsor development to fundraising, and everything in between. EventSupport provides comprehensive event management services to fully online, hybrid, and in-person events.
What specific niche does your business fill in this community?
Event management focused exclusively on the unique needs of nonprofit organizations.
What are some key elements you attribute to your business's success?
The EventSupport team has many years of experience working with large and small nonprofit organizations in all aspects of management, governance, and strategy. This history gives them the unique experience of providing support and guidance to our community. Having well-established relationships with local funders, corporate funders, and vendors allows EventSupport clients the benefit from this network.
In the spring of 2020, the team at EventSupport worked with their nonprofit clients to cancel and/or postpone dozens of events as the pandemic, and stay-at-home orders kept everyone guessing.  As the inability to gather continued, they began to wonder if the business would even survive. Organizations wondered if they would survive as well – would donors continue to support their missions without in-person events?  How would they continue to fundraise and stay relevant?
The EventSupport team heard these concerns and rallied around their clients and the greater nonprofit community. With what soon because an avalanche of information about various online and hybrid options, they began to research platforms, understand the functionality, and learn how to best meet client needs.  Within weeks, these nonprofit clients were offering webinars, educational sessions, and a whole variety of online content with the full technical assistance of the EventSupport team.  The team continues to support and guide organizations through the ever-changing landscape of virtual and hybrid options available as they take their clients into the future.
As a full-service event management company, EventSupport is detail-oriented and brings the organizational skills required to create great events. EventSupport works exclusively with nonprofit organizations on all aspects of events – marketing to sponsor development to fundraising, and everything in between. We bring attention to ensuring your event is a success from start to finish. Locally, regionally, and even across the nation, EventSupport partners with organizations to create events small to large, including board retreats, golf tournaments, gala dinners and auctions, and educational conferences.
Every member of the EventSupport team truly believes in the service we provide to the nonprofit partners, which ripples out into our greater community. Our impact multiplies from one organization to the over 4 dozen nonprofits we currently work with.  Their missions are of the utmost importance to us, and we could not be more proud of their accomplishments and our role in them.