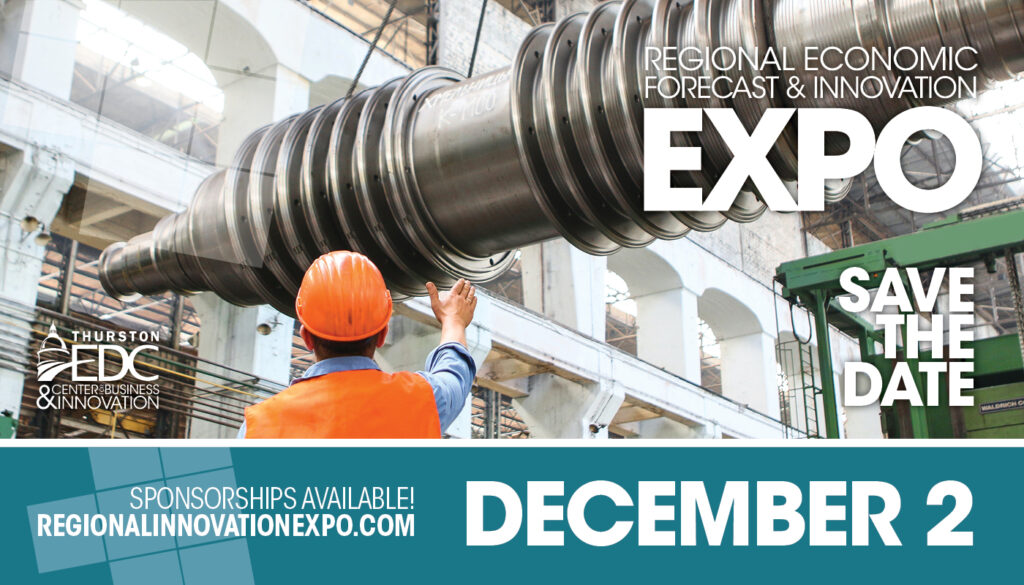 Five County Economic Development Councils' Regional Forecast & Innovation Expo in December to Focus on Workforce Development and Education as the future of Economic Development.
The economic development organizations of five counties will focus on workforce development and education as the future of economic development —at this year's Regional Economic Forecast & Innovation Expo, Thursday, December 2, 2021, at Great Wolf Lodge.  
This year's Economic Forecast marks the 13th anniversary of the region's five leading economic development agencies collaborating to create the region's largest conference that focuses on economic vitality and community development as it is today and as it will be tomorrow . . . . and beyond!
This year's keynote is Dr. Ali Modarres from the University of Washington Tacoma. Dr. Modarres is the Dean of the School of Urban Studies and the Assistant Chancellor for Community Engagement at the University of Washington Tacoma. From 1999 to 2017, he served as the Editor-in-Chief of Cities: The International Journal of Urban Policy and Planning. Dr. Modarres earned his Ph.D. in geography from the University of Arizona and holds master's and bachelor's degrees in landscape architecture from the same institution. He has published in social geography, immigration, urban development, planning, and policy. Dr. Modarres has focused a significant portion of his public scholarship on economic development through an equity lens that includes global labor migration within the larger political and economic discourses.
Dr. Modarres serves on several governing and advisory boards of academic associations, nonprofits, and policy centers, including Economic Roundtable (Los Angeles), South Sound Regional Leadership Council of Forterra, and the Greater Tacoma Community Foundation. He has also served on city task forces and committees, including the Affordable Housing Technical Advisory Group for the City of Tacoma. Throughout his academic career, he has built bridges between the university and the community, promoting and supporting the mission of urban serving universities.
As a part of his academic service, he serves on the advisory board for Palgrave's book series on Demography and Political and Social Change in the MENA region (the Middle East and North Africa) and Springer's Urban Book series. He also serves on the editorial boards of the Journal of Urban Affairs, Cities, and Sociologica Urbana e Rurale (Italy). He is one of the two founding editors of the new journal of Race, Ethnicity, and the City.
This event is put on in partnership with the five economic development organizations of the Pacific Mountain Workforce Development Region.
WHO: Thurston EDC, Greater Grays Harbor, Inc., Lewis County EDC, Mason County EDC, Pacific County EDC.
WHAT: 2021 Regional Economic Forecast & Innovation Expo
WHEN: Thursday, December 2, 2021, from 7:30 a.m. through 3:30.
COST: $75 per person
WHERE: Great Wolf Lodge