Hootenanny 2022

You're Invited to Hootenanny!
We had so much FUN in the SUN at the Hootenanny last summer that we're doing it again!
Join us for games, live music from Runaway Train, BBQ from Southbay Dickerson's and local beer as we blow off some steam!
Hootenanny is an outdoor casual BBQ. Feel free to wear your boots and gingham. We will supply local libations and food with vegan options. Are we bringing back the Dunk Tank and the Mechanical Bull? We'll see!
Maybe
we'll have some hilarious new challenges up our sleeves?
No matter the games, there will be plenty of laughs as we put our local celebrities into some outrageous situations
!
While we're having fun, we're also going to celebrate some extraordinary Thurston County Businesses. Yes, we're bringing back the Economic Courage Awards!
Nominations for Economic Courage Awards closed on Friday, July 1, 2022. Thank you to everyone who submitted a nomination!
Who: Thurston Economic Development Council (EDC)
What: Hootenanny
When: July 19, 3 pm to 6 pm
Where: Thurston EDC Center for Business & Innovation (Outside-SPSCC Lacey Campus)
4220 6th Ave. SE Lacey WA 98503
Cost: $50
Contact: Holly House [email protected]
Want to help support this event? Sponsorships are available!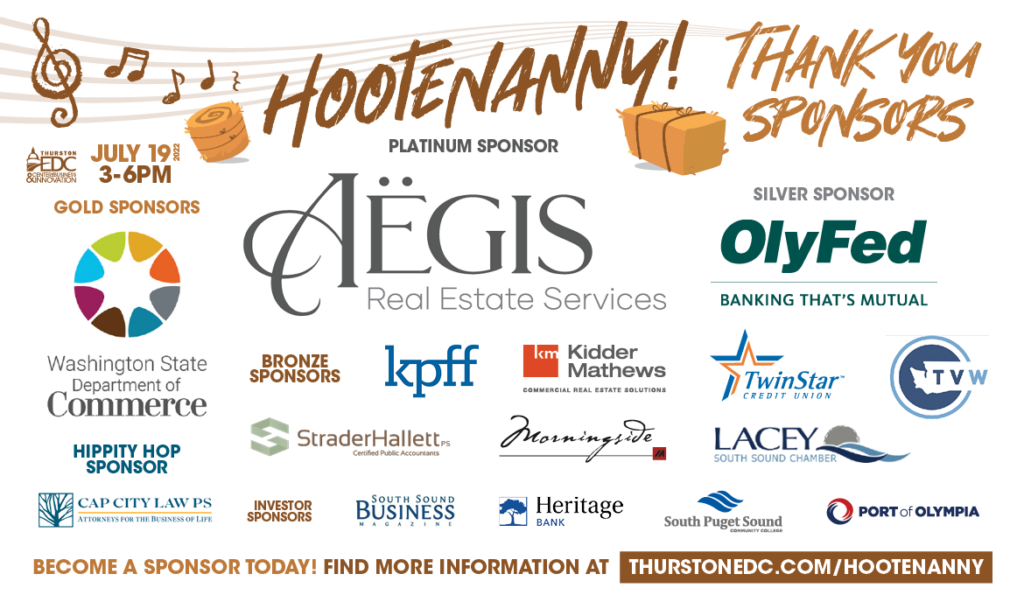 Nominations Now Open for Economic Courage Awards
Last year, we gave out the first annual Economic Courage awards to organizations that had shown 'Economic Courage' in overcoming the tremendous obstacles the pandemic had thrown their way!
What is Economic Courage? Economic courage could be defined as a leader, a business, nonprofit and or organization that, while facing economic uncertainty and a radical retraction of "business as usual" took extraordinary steps to provide a service, a product, and or a support service that made a positive impact to the community and or employees of their organization. These are individuals that took economic risks to continue to provide a service, product and or resource in the face of unprecedented economic uncertainty. Showing the ability to adapt, change and thrive during a time of uncertainty.
The 2021 Economic Courage Award Winners were!
Taylor Shellfish Farms
Sofie's Scoops
TVW
Serendipity Children's Center
Morningside
Olympia Symphony Orchestra