Taste the BEST at Humble Cow Ice Cream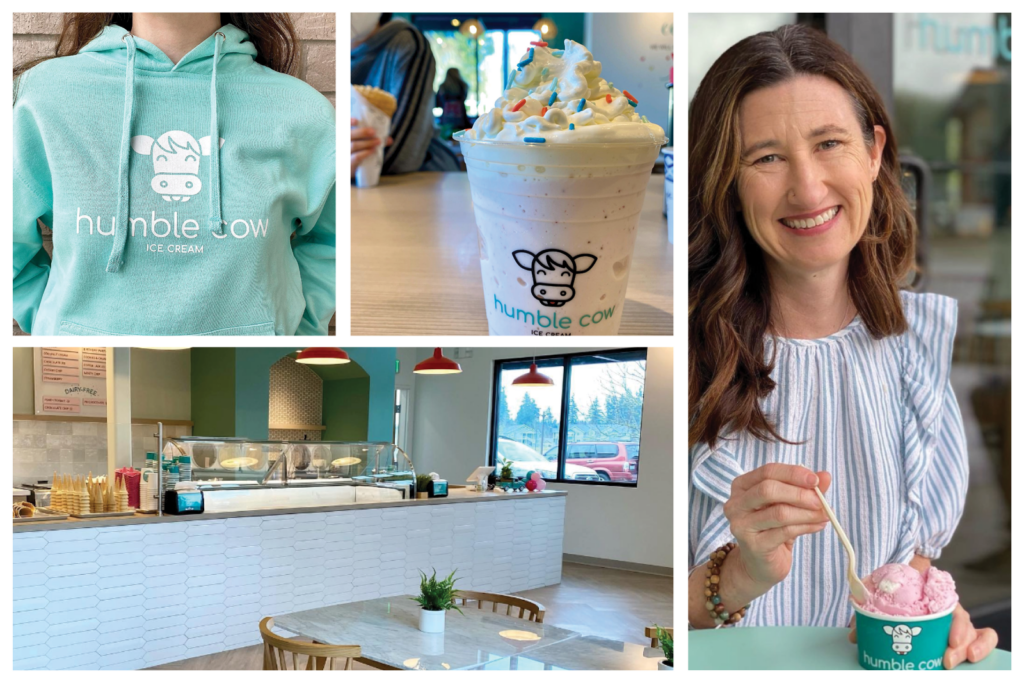 Photos courtesy of Humble Cow Ice Cream. Meegan Cronk is the founder and owner. 
With happiness, like ice cream, we all have our favorite flavor. And let's be honest, often ice cream and happy go hand-in-hand. At Humble Cow Ice Cream, success came one scoop at a time thanks to the best stuff around…fresh ingredients AND Business Enterprise Startup Training (BEST) information from the Washington Center for Women in Business.
Owner Meegan Cronk laughs that until recently she was "more of an ice cream consumer than producer" but opened her shop to rave reviews on January 15, 2022. Having moved to Thurston County from the Port Angeles area five years ago, this mom of three was initially drawn to our area for its amazing schools.
"I've always loved eating ice cream, it's the first thing I look for when traveling or exploring a new area," says Cronk. "I associate it with happiness, and I was ready to do something happy. The pandemic pushed me from idea into action because people need more joyful things and need happy gathering places."
"It wasn't until I got hold of building renderings for this gorgeous building in our neighborhood that I decided it has to be filled with fun stuff," says Cronk. "It's walkable, near home, and close to kids and senior living." Located at 4528 Maple Lane SE in Olympia, Humble Cow Ice Cream is open from 2 to 9 p.m. seven days a week.
While doing early research during COVID-19 shutdowns, she saw an ad for the BEST program and registered right away. "That class really laid the foundation and having professional expertise in how to do it gave me confidence in what steps to take."
BEST helps participants decide if starting a small business is right for them by facilitating the creation of a business plan. Virtual classes include training and webinars, a workbook, resources, and six months of free access to Live Plan Business Plan Application.
For Cronk, it was a blessing. "I wrote the plan to convince myself this would be feasible, financially stable, and support growth. It would have taken me years to do this, but I was given all the tools, framework, and statistics. I had the concept of what I wanted to do and vision, ideas, and excitement but wasn't 100% sure if I was going to actually do it. BEST provided a very honest look at the work it would take and hats you have to wear as a small business owner."
Taking the plunge was "scary but it prepared me to know what I'd be getting into. It opened my eyes, not in a discouraging way but very realistically. It also saves time and money. So many businesses open and close without having the correct information. BEST shows you that there are many ways to do things, but you have to find the right entry point for you."
It also asks key questions which are important to know. How much time and money are really needed to start a business? Where is the right location? What is your niche? Without the expertise of others in the industry, "you don't know what you don't know," says Cronk, "and in business, you don't have time to learn in the moment."
Even though summer is still officially weeks away, business is booming! Cronk initially built her on-site kitchen big enough to support an eventual second location. But within the first month, they had to expand both the ice cream machine and freezer to keep up with demand. BEST helped validate what Cronk suspected all along: there was a void needing to be filled and she and the team were doing it.
"People are responding well to the quality of our fresh, natural ingredients and local dairy but also our role as a friendly, walkable gathering place for all ages. It's been busy nonstop since we opened but the sun is our best predictor of lines out the door," admits Cronk.
A former high school counselor, one of the best parts of her new shop is interacting with the people. "Ice cream serves a dual purpose," explains Cronk, "it's joyful and celebratory." But, she's found, it's also familiar and comforting. Whether middle schoolers coming by for a pick me up after losing a beloved teacher or visits by generations of parents, grandparents, and little ones, "it's something universal that can be shared."
She also hires students to work behind the counter. "I love employing young people and teaching them how to work. It's mostly high schoolers in their first jobs and they're happy and want to come to work. I love the energy!" With a team of 19—and 6 more starting soon—that's plenty of scoopers ready to fill your order.
Since opening, Cronk still uses BEST resources. She has worked with advisory services and financial mentors and plans to continue as long as possible. "It's an amazing resource that has really helped with processes and options and doesn't cost hundreds of dollars per hour."
Find more about Humble Cow Ice Cream on Facebook, Instagram, or their website. There you'll find hours, specials, and upcoming activities. Then head over for one of the BEST tasty treats in town.