Investor Spotlight: Express Employment Professionals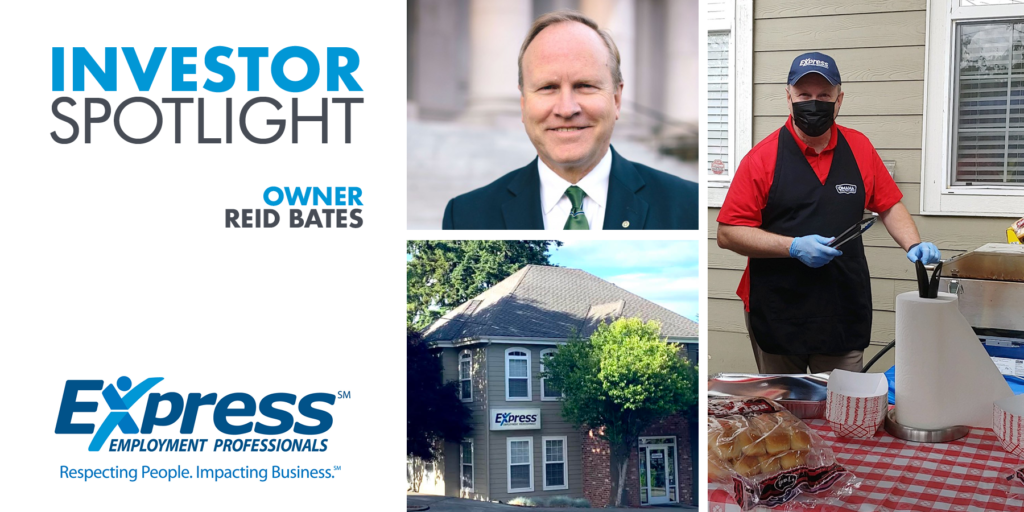 We recently sat down with Reid Bates, owner of Express Employment Professionals. Enjoy our conversation below!
Thurston EDC Investor Spotlight Q&A:  Express Employment Professionals
EDC: How long have you been in business?
RB: Express Employment Professionals first opened their doors in Olympia in 1983, but I purchased the business in May 2007.
EDC: What is your product and who is your customer?
RB: We provide recruiting and staffing services to employers and job seekers primarily in South Puget Sound. We have two types of customers that we serve: employers and job seekers. Employers pay us to recruit, screen and evaluate candidates to work directly for them or through Express on assignment in temporary, temp-to-perm or permanent jobs. Job seekers come to us to make one application with Express that gives them access to many job opportunities with our employer-clients.
EDC: What inspired you – or the founders – to start your business?
RB: Prior to 2007, I spent the majority of my career with Weyerhaeuser, living and working across the United States and Japan. I bought, sold, and ran some of Weyerhaeuser's operations but always wanted to have my own business. Weyerhaeuser's restructuring in 2006 led to my job ending, and that turned out to be the greatest blessing!  I found this business for sale while living in Chicago and bought it sight-unseen.
EDC: What inspires your work and sets you apart from the competition?
RB: There is nothing like seeing the joy and relief on a person's face when you help them connect with a great employer! It is the greatest feeling and motivates our team to strive to make the best possible match. We are fortunate to have recruiting and staffing contracts with some of Thurston County's top employers across a wide variety of fields. When you can offer excellent job opportunities in the marketplace, you can attract the best people for those jobs. And when you treat those job seekers with respect and diligence, they refer other job seekers.  Referrals are our #1 source of candidates and in today's market, having talent available is a supreme advantage. The other thing unique about us: Express is among the top 10 largest staffing companies globally, which gives us the strength of a $3+ billion-dollar global powerhouse with the commitment of local ownership.
EDC: What has been your most significant success to date?
RB: Well, there are several things that make us proud.  Receiving the Thurston EDC's Small Business of the Year award in 2009 was a thrill, of course!  Thousands of people have obtained permanent jobs with area employers through our Express office is another.  Our business has seen significant growth in revenues, associates-placed and clients-served these past 14 years.  Finally, having so many job seekers and employers referred to us is a testament that we are doing something right.
EDC: What has been your biggest challenge to date?
RB: The great recession in 2008-2009 came a year after I bought the business, and the demand for new hires and temporary employees dried up almost overnight and stayed that way for 18 months.  Today we have almost the opposite challenge, so many jobs to fill but too few people!
EDC: Describe your typical workday.
RB: At 8:10 AM we have a 20-30 minute huddle with all internal employees to set goals for the day and review the open job orders we are trying to fill.  I always enjoy the energy and vibe that comes out of those meetings.  Throughout the course of the day, I may be involved in a client meeting or two, reviewing lots of data to spot trends, connecting with our internal staff and 1:1 meetings with the three managers running our three divisions.  I am often involved in a variety of community, church and non-profit activity, which I thoroughly enjoy, and which occupies several hours a week.
EDC: What is your best advice for an aspiring entrepreneur?
RB: Being in the "people business," the best advice I can give is to hire the best talent you can find who offer strengths that will offset your weaknesses.  Don't hire people just like you.  Hire slow and fire fast.
EDC: Do you have a business or personal mantra or inspirational quote you'd like to share?
RB: To ensure I keep my priorities in order, I regularly consider the quote:  "No success can compensate for failure in the home" – David O. McKay
EDC: Is there a common misconception about your business within Thurston County that you'd like to address here?
RB: Express is much more than a good place to find temporary work.  A high percentage of our associates placed on assignments become permanent hires of our clients.  We also have a division entirely dedicated to filling high-paying jobs in finance, accounting, HR, and healthcare.