Lacey MakerSpace to Receive $1 Million for Facility Expansion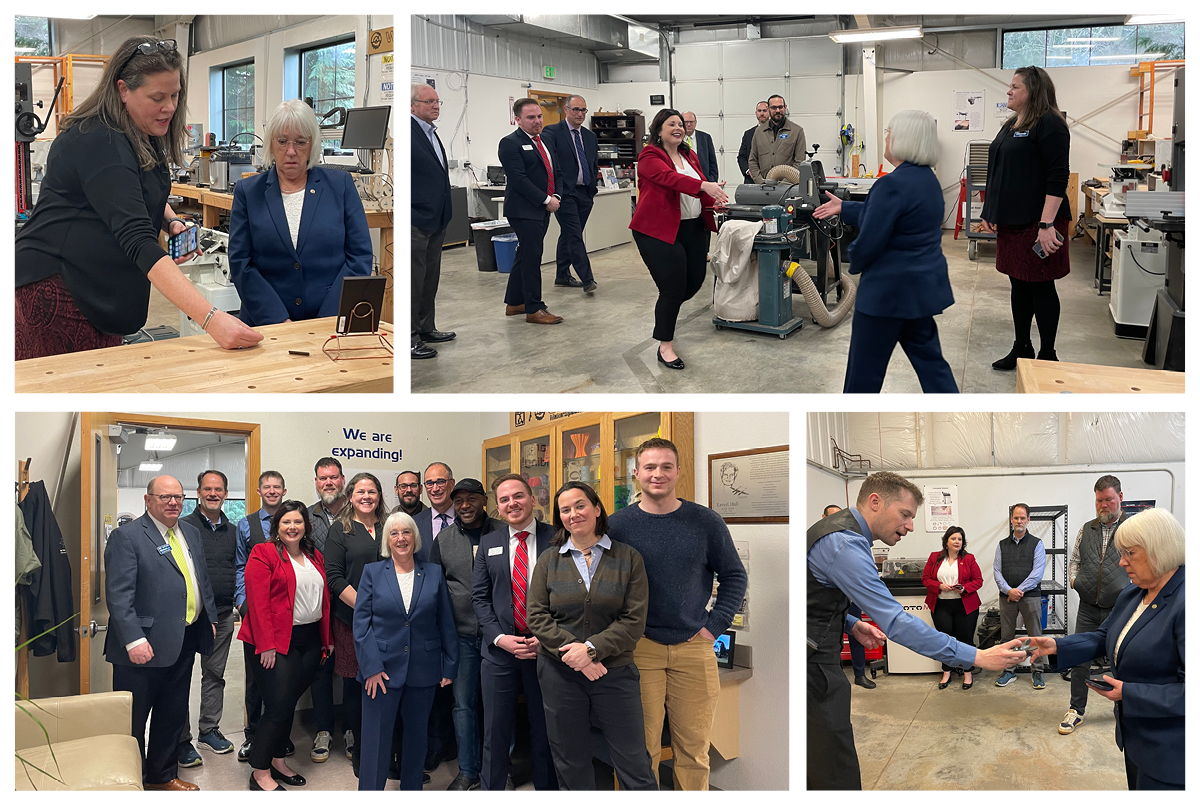 Pictured in the group photo (L to R) behind Senator Patty Murray: Thurston EDC Director Michael Cade, LMS Member Scott Royer, LMS Shop Manager Nathan Caldwell, SMU President Jennifer Bonds-Raacke, Lacey Mayor Andy Ryder, LMS Director Michelle Pope, CB&I Dir. Sean Moore, Interim Lacey City Manager Rick Walk, Lacey Deputy Mayor Malcom Miller, SMU VP of Marketing & Communications Nate Peters, LMS Member Shelly Dove, LMS Member Eston Smith
LACEY, WA, January 20, 2023: The City of Lacey (City) will receive $1 million in federal funding through Congressionally Directed Spending (CDS) from Senator Patty Murray and Senator Maria Cantwell to complete an upgrade and expansion of the Lacey MakerSpace (LMS).
The City will leverage this funding with a local investment of $500,000 to expand the LMS to just under 10,000 square feet to house cutting-edge manufacturing technologies. Funding from the Senators builds on a $1 million grant from the U.S. Economic Development Administration (EDA) for the LMS to acquire state-of-the-art manufacturing and prototyping equipment and to develop and implement a workforce training program for workers and business owners impacted by the pandemic.
"Investing in a skilled workforce is absolutely critical for Washington state to stay competitive. That is why I fought hard when I helped negotiate last year's spending package to secure $1 million in Congressionally-directed funding for the City of Lacey's Makerspace," said Senator Murray (D-WA). "Makerspace is helping uplift entrepreneurs and small businesses in Thurston County and across the South Sound—building a stronger and more dynamic economy for the entire community. Investing in facilities like Makerspace today, that drive innovation, is how we build an economy for the future."
"We are extremely appreciative of Senator Murray and the rest of our congressional delegation, Senator Cantwell and Representative Strickland, for championing this project and getting it across the funding finish line," stated Lacey Mayor Andy Ryder. "This funding will pay dividends for the development of Thurston County's advanced manufacturing workforce and as a springboard for the creative economy in the South Sound.   The Lacey MakerSpace is a key cog in making sure we have workers, manufacturers, and entrepreneurs ready to take on and meet the needs of our future.  A variety of users from all around Thurston County, and beyond, come to this space because it is truly a one-of-a-kind asset.  We deeply appreciate our federal delegation for recognizing and supporting this important facility."
"Saint Martin's University is proud to serve as a founding partner of this wonderful community resource. Because of the federal funding, the facility will now be better equipped for the LMS to serve the growing workforce needs of our local community and region," said University President Jennifer Bonds-Raacke, Ph.D. "This next evolution of the LMS and its growing services is made possible thanks to the federal investment and support of Senator Murray, Senator Cantwell and Congresswoman Strickland. We are also excited for the new possibilities right here on campus for our students, faculty and staff."
"We are honored to be recognized by the Senator's attention and support of the MakerSpace," said Michael Cade, Executive Director of Thurston EDC & Center for Business and Innovation. "It is a strong validation of our work with the other founders to create a facility that is a critical piece of our region's innovative, vibrant and inclusive economy. It is a critical piece of the network that we will all benefit from as we evolve, grow and sustain our entrepreneurial economy."
The LMS is an "Innovator's Workshop and Entrepreneurial Incubator Center" open to the public. It is a collaborative partnership between the City of Lacey, Thurston EDC Center for Business and Innovation, and Saint Martin's University. The LMS provides community access to high-tech fabrication tools and instructional training including CNC fabrication, metalworking, woodworking, textiles, and electronics.  The LMS promotes innovation, entrepreneurship, and the development of new products and services, with the goal of serving as a business incubator and catalyst for advancing the local and regional economies. Conveniently located on Saint Martin's University campus and within the Lacey Midtown Innovation District, the LMS is a space where small business, manufacturers, entrepreneurs, artists, skilled workforce, higher education, and business support services converge.
According to LMS, the funds will cover much of the costs associated with making vital infrastructure improvements necessary to accommodate all the new equipment, some of which has already been received and made available to members, such as waterjet, resin and SLS printers, with more to come over the next 18 months. LMS staff look forward to growing awareness of the many resources available to the region's small businesses, manufacturers, innovators, entrepreneurs, and artists while developing new partnerships and programming focused on workforce training in on-demand jobs throughout the state.
LMS expressed gratitude for the support of Senator Murray, Senator Cantwell and Congresswoman Strickland, their founding partners Saint Martin's University, Thurston EDC and the City of Lacey, and their members, volunteers, and the greater South Sound Community.
"It was a tremendous honor to have Senator Patty Murray visit Lacey MakerSpace earlier this week to thank her in person and show her how her support and this funding will help LMS and our community. We look forward to the great things to come," said Michelle Pope, Director of the Lacey MakerSpace.
To learn more about the Lacey MakerSpace and how to get involved, visit LaceyMakerSpace.org or call (360) 339-4205.