New Wellness Program for City of Lacey Employees Features Locally Grown Produce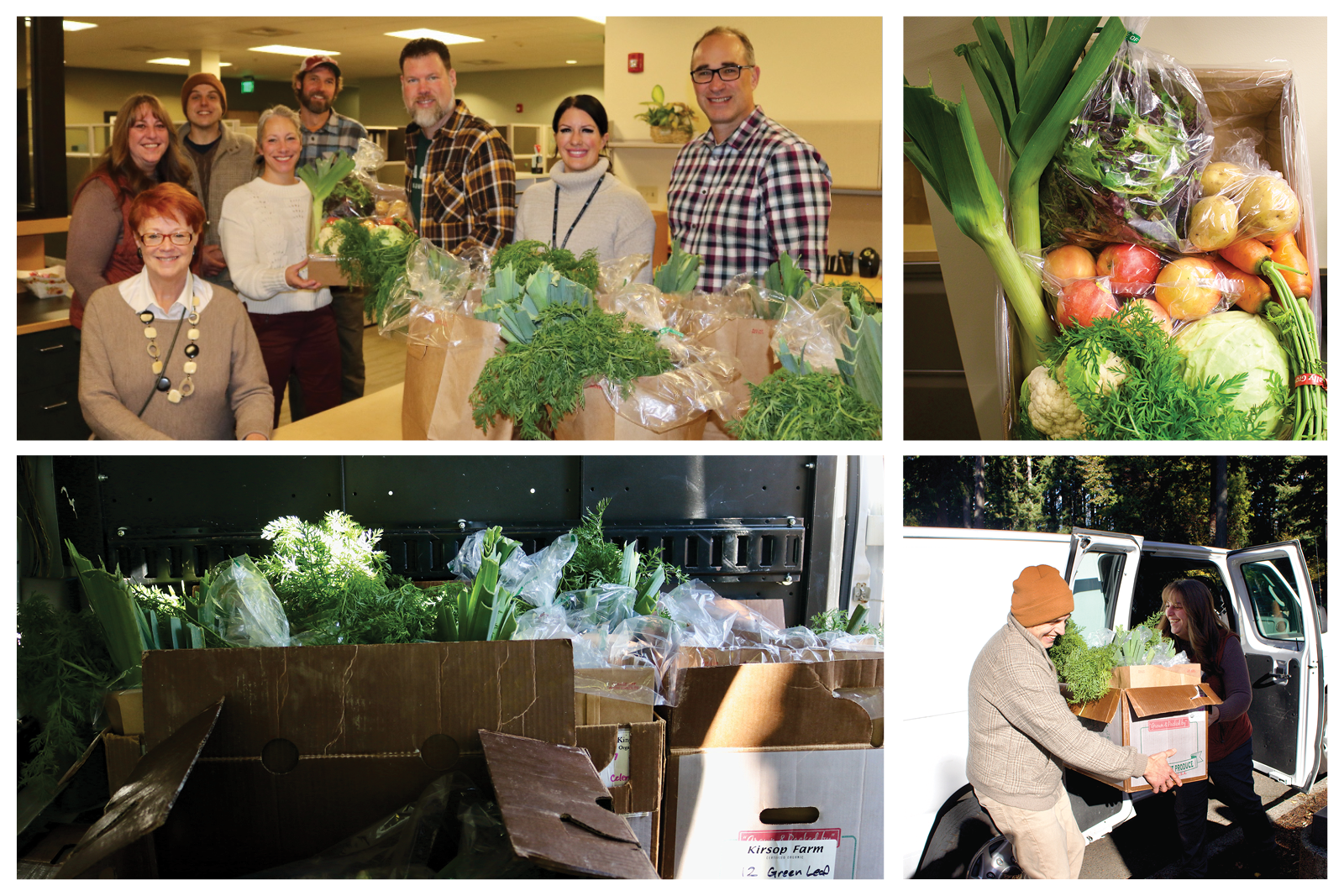 Photo – Left to right:  Tina Sharp, Thurston EDC, Marilyn Sitaker, WSU Extension, Casey McCrone, SW WA Food Hub, Becci Ryder, "First Lady," Stephen Bramwell, WSU Extension, Andy Ryder, City of Lacey Mayor, Jeni Schaefer, City Human Resources Wellness Coordinator, Rick Walk, Interim City Manager.
On November 9, the distance from dirt to desk got shorter as City of Lacey employees munched delicious locally-grown produce delivered directly to the workplace. The event marked the launch of the Workplace Wellness Farmshare, a program offered by the Southwest Washington Food Hub in partnership with the City of Lacey Wellness Committee. The Food Hub is a cooperative business selling locally grown foods from 25 farms in a six-county region, including Thurston County.
The Workplace Wellness Farmshare is a twelve-week subscription program to promote healthy eating habits centered on a box filled with a variety of locally grown fall produce delivered conveniently to the workplace.
Lacey Mayor Andy Ryder, on hand to receive his first weekly box of local farm fresh produce shared, "The First Lady and I have been meaning to add more fresh local farm vegetables into our diet, and this program makes it easy, delivering a weekly box right to the office! I want to give a shout-out to Jennifer Schaefer and our City of Lacey Wellness Program for providing this opportunity to all of our staff."
City of Lacey employee Leialani Jensen agreed, "I've wanted to buy locally grown foods for a while, but didn't feel I had time to shop for it. Getting a box delivered right where I work will make it easy."
To help participants get the most out of their Farmshare, they receive weekly cooking videos, recipes and tips on storing, preparing, and cooking the vegetables. "Even though I'm an experienced cook who also gardens, the educational resources and cooking videos will help me make tasty dishes out of vegetables I'm unfamiliar with," said Lacey City employee Venessa Medford.
Previously, the City of Lacey hosted a virtual lunchtime information session for employees. Staff from Thurston WSU Extension and the Thurston Economic Development Council, who help administer and promote the Food Hub and its programs, were on hand to describe the program and answer questions. They were joined by farmers from Five Heart Farms and Bee Organic Farm and Apiary, both Southwest Washington Food Hub members. Subsequently, employees received emails throughout October detailing program basics, costs, and sign-up procedures from Wellness Coordinator Jennifer Schaefer.
Jennifer, herself had this to say, "I love supporting local farmers and actively participating in CSAs. Even though I have been working with the Food Hub to implement this program, it has exceeded my expectations! I am so excited to be able to provide this additional benefit for our staff.  –
Next spring, the Southwest Washington Food Hub will partner with additional area employers to offer their employees the Workplace Wellness Farmshare program. For more information about how to bring this program to your workplace, contact Program Coordinator Marilyn Sitaker at [email protected].