Target Zone Grant Allows VBNC Physical Therapy To Grow With Flexibility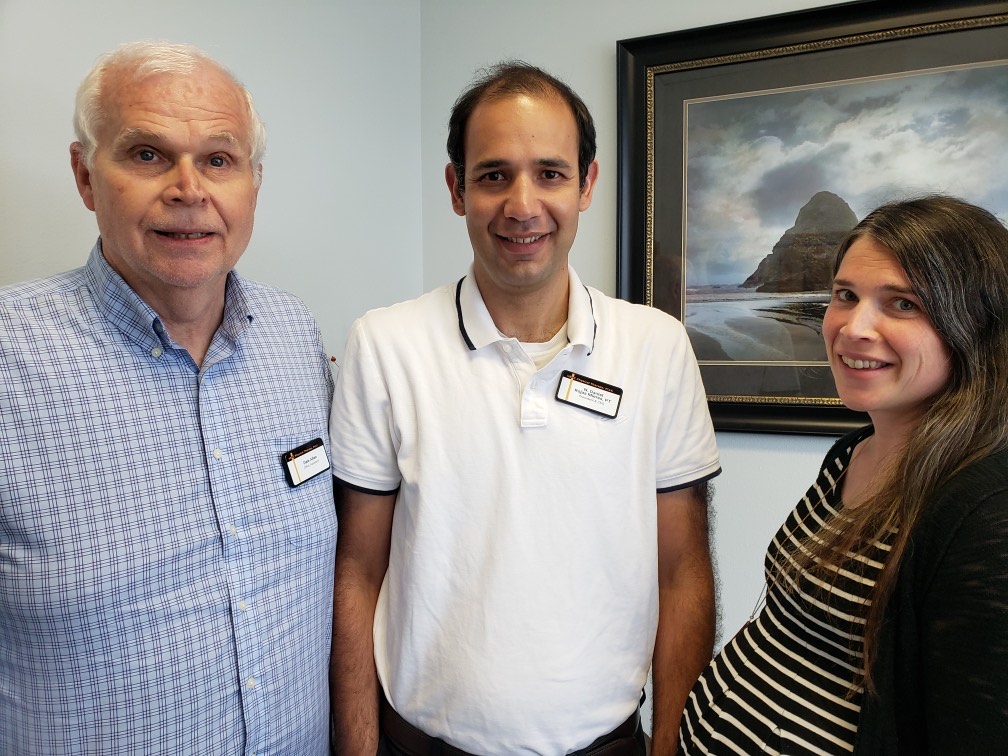 The human body is complicated, with parts that interact in unusual (and occasionally painful!) ways. Physical therapy realigns muscles, joints, and the spine to reduce pain, restore mobility or balance, and get you back on your feet. Whether due to illness, injury, or day-to-day aging, at VBNC Physical Therapy, they work with patients to find the root of their issues. Thanks to the Thurston County Target Zone Business Startup Grant through the Thurston Economic Development Council (EDC), they've added staff and complementary therapies to their repertoire in an expansion that's a win/win for everyone. The grant aims to address economic inequity by investing in the areas and people most vulnerable to the impacts of the COVID-19 pandemic. Applicants had to meet specific industry, housing cost or income-related criteria.
Physical Therapist Daniel Rojas first heard about the Target Zone grant from the Thurston EDC's BIPOC Business Community Liaison Mayra Pena. With the funds received after a five-month application process, he made thoughtful purchases that help everyone who walks through the clinic doors…staff and patients.
Outside of office equipment and facilities items, Rojas brought in "electric therapy tables, treadmill, bike, gym equipment for exercises, and many other smaller items utilized in physical therapy. These types of equipment will benefit both therapists, to be able to implement treatments with different tools, and patients so they can carry out their physical therapy program."
They also acquired two items relatively unique to our region. First was PhysioGait, a harness system that benefits "patients that cannot bear full weight or have increased balance challenges," says Rojas. It will primarily aid the elderly and stroke or orthopedic populations who can now perform exercises almost weightlessly without the risk of falling.
The other addition is infrared goggles used for vestibular conditions such as vertigo, explains Rojas. This technology helps diagnose vertigo, concussions, MVA, and other neurological conditions. By offering them in Lacey, patients will not have to live undiagnosed or drive great lengths to find providers with the necessary equipment.
But more than just items, the Target Zone grant improved morale across the board. "I often thought I wanted to do everything alone with no other help," admits Rojas. "However, I realized it's ok to recognize and acknowledge when help is needed. This is crucial when you have a vision that involves serving the community with the best you can give of yourself."
VBNC Physical Therapy prides itself on its personalized, mindful approach. They offer one-on-one, full-hour sessions that are never double- or triple-booked. Rojas welcomes those who may have fallen under the radar in more traditional settings. He invites patients and caregivers to ask about treatment for headaches, vertigo, auto or on-the-job accidents, pregnancy pain, sports injuries, and those with high deductible insurance plans or no complementary care benefits. Want to visit but not sure if you need a referral or have the right coverage? Reach out, and their team is happy to help.
"I never thought what a great task it is to prepare the best environment for a person to demonstrate the skill when taking care of others and to make sure that they are being reimbursed most adequately for the service they provide to the community," says Rojas. "But I have to be honest; it feels so right to do it when you stick to your vision about helping people, and you know the right person is joining your team to do this as well."
The business has been busy, thankfully, with word of mouth and provider referral clients on the rise. They are always accepting new patients, have bilingual staff for those who speak Spanish, and are adding a new therapist to the team on January 2, 2023. Just call 360.915.7369 or drop by and see the team today. They are located at 4770 Yelm Highway SE. Thanks to the Target Zone grant, VBNC can target your trouble spots and provide lasting relief.