Thurston EDC Awards Economic Courage Medals at Hootenanny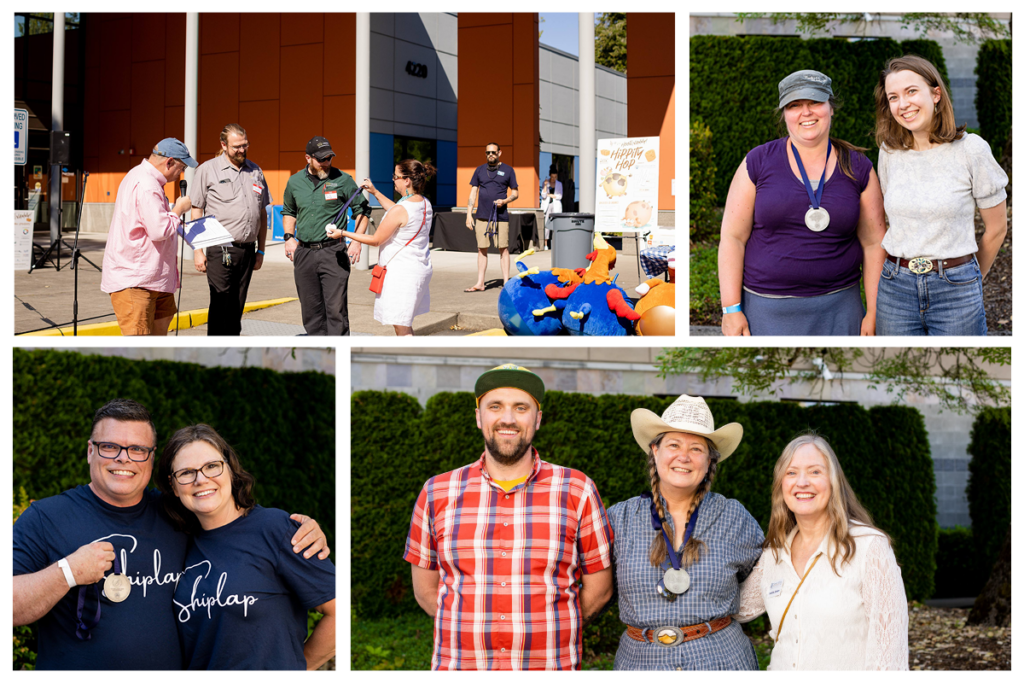 Photos from left to right/top to bottom: Large Business Crown Beverage Packaging North America David Haynie & Tony Ellison. Agricultural Award Winner, Olympia Farmers Market, represented by Melissa Southwick, Market Board Vice President and Nora Hantula, Market Assistant Manager. New Business Gary & Kristin Rurup. Non-Profit Northwest Cooperative Development Center Fred Medlicott, Cooperative Development Specialist for the NWCDC- Diane Gasaway- Jessica Jensen Cap City Law. Photos by Shanna Paxton Photography.
On July 19, the Thurston Economic Development Council (EDC) held an old-fashioned BBQ & Hootenanny! That's right – delicious food, drinks, hay bales, a
Cornhole Tournament, Bluegrass music from Runaway Train, and hippity-hop races featuring local celebrities.
"We gave out awards to organizations that have shown 'Economic Courage, ' including fortitude, perseverance and success in an ever-changing business climate," said Michael Cade, Thurston EDC's Executive Director.
What is Economic Courage? Economic courage could be defined as a leader, a business, nonprofit and or organization that, while facing economic uncertainty and a radical retraction of "business as usual," took extraordinary steps to provide a service, a product, and or a support service that made a positive impact to the community and or employees of their organization. These are individuals that took economic risks to continue to provide a service, product and or resource in the face of unprecedented economic uncertainty. Showing the ability to adapt, change and thrive during a time of uncertainty.
Congratulations to the 2022 Economic Courage Award Winners:
Agricultural Business: Olympia Farmers Market
New Business: Shiplap Quilt Shop and Coffee House
Non-Profit Business: Northwest Cooperative Development Center
Small Business: Van Tuinen Art
Large Business: Crown Beverage Packaging North America
We celebrate all of our 2022 Economic Courage Nominees for their contributions to our community:
Small Business Nominees
Archibald Sisters
A&E Relocation Services
Browsers Bookshop
The Brotherhood Lounge
Captain Little
Chicory
Delmonico's Butcher Shop
Encore Chocolates
Event Support
Exit Puzzles
Firefly Yoga
Miss Priss Lash and Brow
Precisely Right Accounting
Sound Vision
Taylor Rays Café
Wayside
Non-Profit Nominees
Community Farm Land Trust
South Sound YMCA
Tenino Food Bank
New Business Nominees
507 Taproom and Filling Station
Adam's Bagels
BIPOC Biz Directory
Buckwheat and Sons painting
Camp Clout
Crystal Forest
Lacey Bin Wash
Pinball Museum
VBNC Physical Therapy
Large Business Nominees
Capital Medical Center
Dancing Goats Coffee
OlyFed
Agricultural Business Nominees
Colvin Ranch – Agricultural
HotBabes-Hot Sauce
Kirsop Farm