Thurston EDC Releases the Thurston Economic Vitality Index—Conditions for Thurston County's Economy Are Still Very Favorable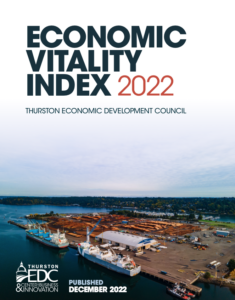 The Thurston Economic Development Council (EDC) and report sponsors, Port of Olympia and South Puget Sound Community College, are proud to have produced the Thurston Economic Vitality Index (EVI) for over 15 years. It is the EDC's intention that you will be able to use this report and the data presented as a planning tool and document to assist businesses and communities in creating and implementing strategies for action. The EDC has a team of professionals ready to assist you in your efforts – please do not hesitate to reach out to us for any background material and data you need and to provide an overall review of the region's economic development strategies and trends.
Our composite leading index is based on five monthly published indicators deemed to be good measures and proxies for Thurston County. The index currently stands at 116.1 and is only .5 points lower than its 116.6 height prior to the COVID-19 pandemic. While it appears a correction is in process, conditions for Thurston County's economy are still very favorable relative to what it endured during the COVID-19 pandemic when the index reached its historical low of 80 points.
The Housing Affordability Index indicates the cost of housing in Thurston County and Washington State has continued (and accelerated) its trend toward a less affordable marketplace for both middle-income and first-time homebuyers. First-time home buyers are particularly at risk in this housing market, where Thurston County workers have seen their purchasing power decline immensely over the last ten years from a high value of 113.5 down to the current level of 63.7. This lack of parity in the housing market represents one of the singular most important economic challenges for our region for workers, strengthening consumer demand and for retaining workers in our region.