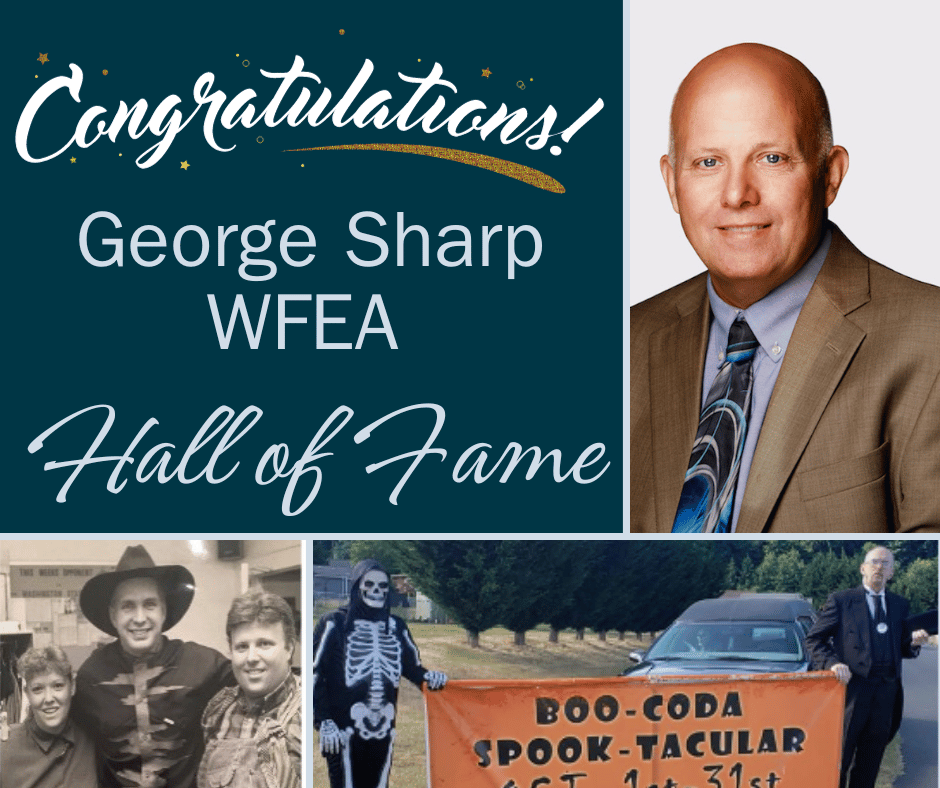 Photos: George Sharp, George meeting Garth Brooks and George as "Bones," Boo-coda's Mascot.
Celebrating Excellence: George Sharp Inducted into the WFEA Hall of Fame
In the world of festivals and events, George Sharp, Thurston Economic Development Council's Rural Program Manager, stands as a shining example of dedication, leadership, and a lifelong passion for community enrichment. It is with great pride that we announce George Sharp's recent induction into the prestigious Washington Festivals & Events Association (WFEA) Hall of Fame. This remarkable recognition took place on October 10th at the WFEA annual convention, where George joined a select group of individuals who have received this honor since the inception of the Hall of Fame in 2001.
George Sharp's journey into the world of festivals and events is nothing short of extraordinary. It all began in 1989 when he volunteered as the very first Tase T. Lentil Mascot for the National Lentil Festival, which marked the festival's inaugural year. Little did he know that this would be the starting point for a lifelong commitment to community and economic development through events.
The following year, George took on the role of Visitor and Convention Director for the Pullman Chamber of Commerce and simultaneously served as the Executive Director of the National Lentil Festival. His dedication knew no bounds, and he set out to recruit Festival Floats for the Lentil Festival Grand Parade. To accomplish this, he built the Pullman Community Float and took it to more than 26 parades in its first year, eventually participating in over 100 parades during his tenure as director of the Lentil Festival. Among his favorite parades was the Seattle Seafair, where he made a chance encounter that would prove to be significant in his journey.
George's impact extended beyond the Lentil Festival. He oversaw various events, including the Pullman 4th of July Celebration (where he made history by securing the first sponsorship of a Port-O-Potty in the Palouse Region in 1991), Mudwonderful Festival, Cabaret Gala and Auction, and the City of Pullman's kickoff celebration to send the WSU Football Team to the Rose Bowl in 1997.
In 1999, George Sharp took his talents to the statewide level when he became the Tourism Development Manager for the Washington State Tourism office, which was part of the Washington State Community and Economic Development Department (now the Department of Commerce). During his tenure, he played a pivotal role in the creation of the Great Idea Grant Program, a program that proved instrumental in launching the Washington Wine Country Campaign. George also lent his expertise to communities planning for the Lewis and Clark Bicentennial Celebration, oversaw Washington Day at the 2010 Winter Olympics in Vancouver BC, and supported the launch of the Washington State Quarter Celebration. His consultancy work extended to many communities, where he provided guidance on Tourism Development, including product development, marketing, and public relations.
In recognition of his exceptional contributions to community and economic development, George was named the Washington Economic Development Association (WEDA) Economic Advocate of the Year in 2019. His involvement in the festivals and events industry went beyond accolades; he was a founding member and past President of WFEA, contributed to the development of the first WFEA Chapter, co-created events such as the Tumwater Artesian Brew Fest and the Bucoda Boo-Coda Spook-Tacular Haunted House and Festival, and served as President (2015) and Board Member of Capital Lakefair.
The challenges of the COVID-19 pandemic were no match for George's determination and resourcefulness. He secured more than $100,000 in grants and sponsorships to ensure the survival of Capital Lakefair during the two-year shutdown.
Throughout his illustrious career, George Sharp has received numerous awards from Washington State Tourism (including the Georgie Award), the International Festivals & Events Association (IFEA), and WFEA for his outstanding marketing efforts. His community involvement has been equally celebrated; he was honored as Pullman Citizen of the Year, received the United Way of Pullman Red Feather Award, and earned a well-deserved place in the Pullman Chamber of Commerce Hall of Fame.
Beyond his professional accomplishments, George is an admitted festival fanatic. He attends more than 25 festivals and events each year, further cementing his status as a trusted and highly rated speaker at WFEA Conferences.
The Washington Festivals & Events Association (WFEA) is dedicated to promoting the common business interests of the festivals and events industry in Washington State. The association provides professional and leadership development, as well as technical assistance to a wide range of industry stakeholders, including chambers of commerce, non-profit organizations, visitor and convention bureaus, government agencies, fairs, vendors, suppliers, consultants, and volunteers. The role of community festivals and events in shaping a region's identity and driving tourism and economic development cannot be overstated.
George Sharp's induction into the WFEA Hall of Fame is a testament to his outstanding contributions to the festivals and events industry and his unwavering commitment to community and economic development. As he continues to support Thurston County's vibrant festival scene in his role as Rural Program Manager for Thurston EDC, we extend our heartfelt congratulations to George on this well-deserved honor.
"I'm truly honored to be inducted into the Hall of Fame by the Washington State Festival and Events Association. Although I couldn't be there tonight due to a recent hospital stay, I'm grateful for the opportunity to accept this award through my dear friend, Robin Hailstone Kelley, who has been by my side for over 30 years," said George.
"My deepest thanks go to my best friend, Mitch Chandler, and his family for their support in every event I've been part of. I couldn't have done it without you. And to my wife, Stacy Guettinger Sharp, your unwavering support means the world to me. Thank you for this incredible honor. I wish each of you continued success in your endeavors, and I eagerly anticipate reuniting with you all in the spring."
We invite you to join us in celebrating George Sharp's remarkable achievements and in recognizing the lasting impact he has made on our community through his passion for festivals and events.
George gave us a copy of his acceptance speech. Enjoy!
Hello, Washington State Festival and Industry Association friends.
I'm sorry that I'm unable to be there tonight with you! But I'm just happy to be alive after spending the last 9 days in the hospital.
I'm grateful to my 30-plus-year friend, Robin Hailstone Kelley, for filling in for me; accepting this award and reading my acceptance speech.  I thank Robin for her many years of friendship, especially early in our careers when we had to share a room with an intern in Montreal, Canada at the IFEA convention.  Also, for the time that we shared in the hot tub at the WFEA Conference in Bellingham, brainstorming for the session "The Good, the Bad and the Ugly of Festivals and Events." Thank you also, Robin, for the many times that you allowed me to come up to Issaquah and to brainstorm with you and to get a behind the scenes look at the Issaquah Salmon Days. It made a big difference in my career. I especially thank you for the sincere hugs at every conference we have attended together.
I'd like to thank Bruce Skinner who I met over 30 years ago when I bought his consulting services at an IFEA/WFEA auction. Bruce jumped on the plane and flew to Pullman to help me with planning for the National Lentil Festival. For all the friendship we've had over the years, thank you, Bruce! You have made a difference in my life, and I am grateful for that.
I would like to thank Mike and Chickie Brennan for recruiting me in 1997 away from the National Lentil Festival and to the Ski to Sea Festival in Bellingham. This launched my tourism career in Washington State Government.
I want to thank and acknowledge two festival giants who left us too soon.  Stephanie Allstead with Chocolate on the Beach Festival (your georgiepoo misses you) and Ed  Neunherz of Spokane Lilac Festival (my partner in crime and fellow trouble maker at WFEA Board meetings)
I'd like to thank my best friend, Mitch Chandler, and his family for helping with every event I put on in Pullman, including building a new Pullman Community Float 8 years in a row and taking it to 18-26 parades a year.
My greatest thanks go to my wife Stacy Guettinger Sharp who has been by my side with every festival and event I have been part of.  I love you very much.
The three highlights of my festival career are: When Jerry Seinfeld canceled his appearance at the National Lentil Festival and his picture with the headline "Seinfeld Cancels Lentil Fest" appeared in almost every paper in America in 2001. Getting to meet Garth Brooks in 2004 where I was dressed as Taste T Lentil, the Mascot for National Lentil Festival and where Garth asked my wife what is a lentil when she handed him a National Lentil Festival T-Shirt.  And finally, the work I have done to put Bucoda, the world's tiniest town with the Biggest Halloween Spirit on the map and earn $100,000+ of media.
Thank you for the honor of being inducted into the Hall of Fame. I wish each of you much success in everything you do. I look forward to seeing you in the spring!