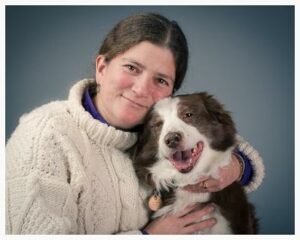 Empathy and Community-Focused Realism Drive Success at Olympia Veterinary Specialists
Dr. Lisa Parshley, co-founder and oncologist at Olympia Veterinary Specialists (OVS), led the OVS team and veterinarians around the region through the most uncertain days of the pandemic. Dr. Parshley is also a member of the Olympia City Council, and she brings an empathetic perspective to both arenas. By taking state guidance seriously from the earliest days of the pandemic, she has managed to keep her staff off of unemployment and their PPP loan in reserve if a positive case in her clinic requires a shutdown. As a city council member, she always has the interests of small businesses and the local economy in mind, particularly related to the wellbeing of families and individuals.
OVS offers emergency, surgery, and internal veterinary medicine services and contains a dedicated cancer center for pets with oncological needs. Dr. Parshley led her team through the pandemic's early days with careful attention to Washington's lockdown and safe start re-opening guidelines. "We took what the governor asked and employed it immediately," Dr. Parshley says. "We put new procedures in place, and we educated our staff because we knew it would not only keep our customers safe but ourselves and our families, too."
The early days of the pandemic were the most difficult. State mandates didn't make it immediately clear that veterinary clinics would be considered essential businesses. Moreover, many of the surgeries OVS performs are considered elective. The Cancer Center kept OVS afloat when only essential procedures were permitted. "Other veterinary oncologists in the area stopped offering their services, so our caseload at the Cancer Center went up," Dr. Parshley explains. Since the caseload in the surgery clinic was down, she shifted the surgeons' duties to the Cancer Center.
In addition to fostering a nimble workplace attitude, the pandemic prompted OVS to digitize their client intake paperwork and move it online to streamline their check-in procedures. They now greet every patient curbside, and of course, all staff and visitors are required to wear masks. Dr. Parshley also founded the South Sound Veterinary Cooperative, which brought together veterinary professionals from around Thurston and Grays Harbor Counties to share procedural ideas, support and even staff members.
"I have been impressed with our community and how, for the most part, we've stuck together to try and get through this," Dr. Parshley shares. "I've been especially impressed with the veterinary community." Dr. Parshley explains how well South Sound veterinarians understand that a healthy economy directly impacts their ability to work and serve the community. With a keen birds-eye view, she explains that a vibrant small business community creates good jobs, which gives families and individuals disposable income, which allows them to have pets and take good care of them. "We veterinarians have a role in making sure small businesses get back on their feet because it's going to break our hearts every time we run into a family that has to choose between paying rent, buying food, and caring for their pets," Dr. Parsley goes on.
Dr. Parshley deeply appreciates the work of organizations such as the Thurston Economic Development Council (EDC). She attributes local businesses' success, including her own, in securing resources through the Paycheck Protection Program and other grants, to the support and education the EDC offered last spring and summer. "Getting information reduces fear," she explains, referring to our weekly virtual informational sessions. "The EDC and initiatives such as Thurston Strong have been a resource for small business education and financial support, and they should get a huge applause for getting this whole effort off the ground and maintaining it."
All but one member of the OVS team have celebrated their first round of the COVID vaccine and look forward to early February when they receive the second. Dr. Parshley is grateful veterinarians were classified in the 1B phase of the vaccine but acknowledges that the vaccine is not the only key to recovery. "We need to get as many small businesses back on their feet as we can," she says. "It's going to take money to open these doors back up. Because of what I've witnessed in the last ten months, I think if we keep our efforts up, we can recover. The EDC is going to play a big role in that, and they have my support."