The Economic Impact of The Evergreen State College
In September 2018, the Thurston Economic Development Council released a comprehensive economic impact report detailing the economic contribution of The Evergreen State College ("Evergreen") to Thurston County and Washington State. This report was done using the IMPLAN I/O and assesses the impacts of The Evergreen State College's 2016-2017 academic year.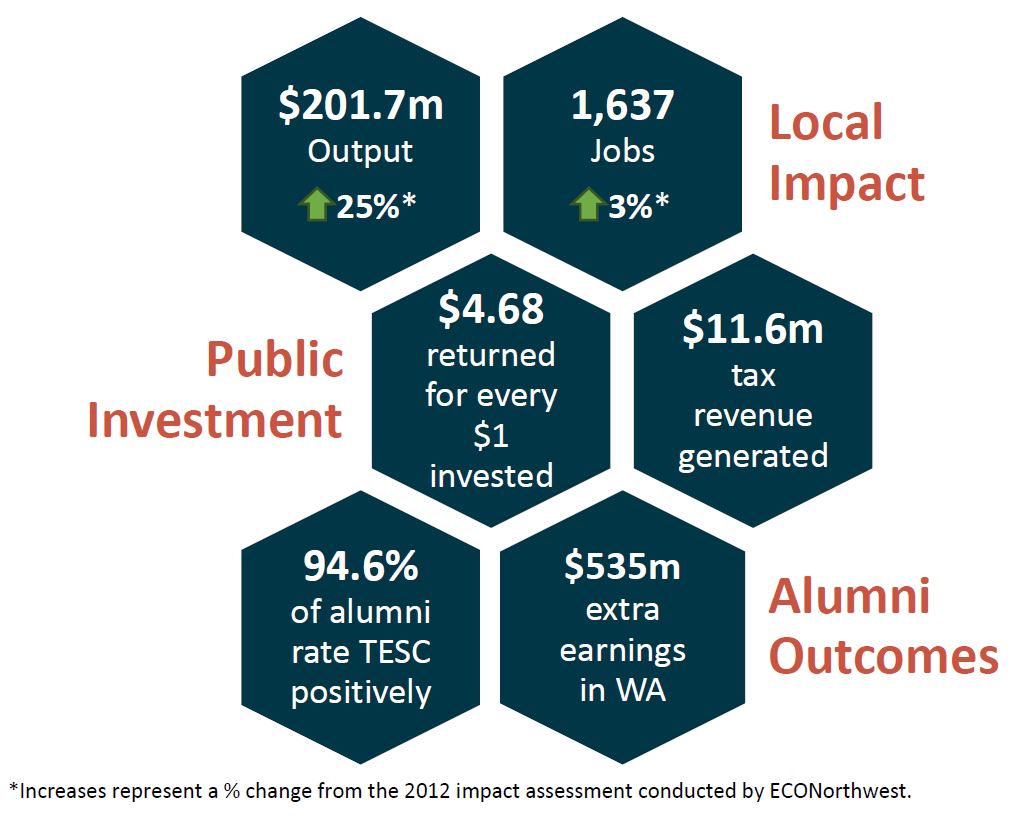 SUMMARY
The report finds that Evergreen's total economic contribution to Thurston County is valued at $201,793,988 and includes $109,478,924 in income and 1,637 jobs. These impacts accrue from local operational and capital spending by Evergreen, local spending by Evergreen's student body and local spending by visitors that attend events hosted at Evergreen's campus in Olympia, WA.
For every $1 the state invests in Evergreen, approximately $4.68 is generated in new economic activity within Thurston County. Public investment in Evergreen generates value in the local economic with each job created costing the state only $26,357.73. For every $3.69 spent by the state to fund Evergreen, $1 is returned to the public in state and local taxes.
As part of this report, the Thurston Economic Development Council conducted an electronic survey of Evergreen alumni to measure student outcomes. A total of 2,006 total responses were collected. According to alumni, 96.49% of alumni had a positive or very positive experience while attending Evergreen. The average reported salary for alumni one year after graduation was $39,057.97 and $60,755.67 for all alumni. 83% of all alumni were currently employed and 62.26% felt their daily work was "very creative".