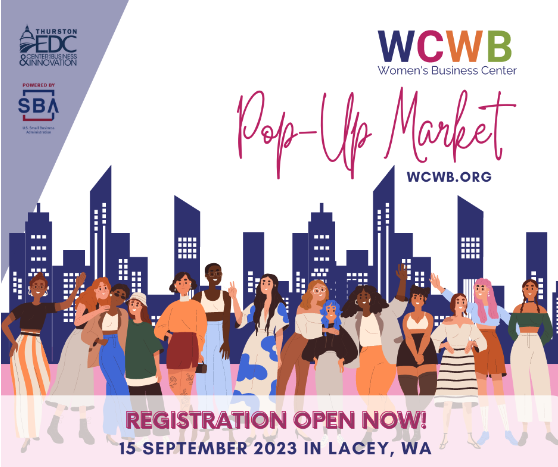 INSPIRE: Unveiling an Exciting Business Pop-Up Event to Celebrate Women Entrepreneurs in Washington
The Washington Center for Women in Business (WCWB) is thrilled to unveil an exceptional event designed to empower and showcase the incredible talents of women entrepreneurs across the state. Titled "INSPIRE: Pop-Up Market," this highly anticipated occasion is set to take place on September 15, from 3:00 pm to 6:00 pm, at 4220 6th Ave SE, Lacey, WA 98503.
Supporting Women-Owned Businesses
INSPIRE: Pop-Up Market serves as a platform to spotlight the innovative prowess and dedication of women-owned businesses within the vibrant WCWB community. From visionary startups to established enterprises, this event celebrates the remarkable contributions of these entrepreneurs who are leaving an indelible mark not only in Lacey but also beyond its borders.
A Haven for Emerging Ventures
Attendees at INSPIRE: Pop-Up Market will have the unique opportunity to immerse themselves in an array of new and exciting businesses emerging from the WCWB ecosystem. These entrepreneurs are eager to forge connections, expand their networks, and share their distinctive brands with the world. Whether attendees are seasoned professionals or enthusiastic newcomers, this event promises a captivating experience for all.
Accessible and Inclusive
To encourage participation, INSPIRE: Pop-Up Market offers an economically viable option for women-owned businesses seeking to register as vendors. With limited spaces available, interested parties are urged to secure their spots at the earliest convenience to avoid missing out on this exceptional opportunity.
Register Now to Secure Your Spot
Registration for this event is now open. Interested participants are encouraged to visit our website and secure their spots promptly. The registration fee is set at $30, a modest investment that promises immeasurable returns in terms of exposure, networking, and brand recognition. https://www.wcwb.org/events/inspire-new-business-pop-up-event
About the Washington Center for Women in Business
The Washington Center for Women in Business (WCWB) is a program of the Center for Business & Innovation (CB&I), whose mission is to empower entrepreneurs to succeed in business by providing coaching, training, and technical assistance on a wide variety of business topics. The WCWB differs from other programs under the CB&I in that its Business Coaches are focused on helping women entrepreneurs achieve their business goals. The WCWB is funded, in part, through a cooperative agreement with the U.S. Small Business Administration.