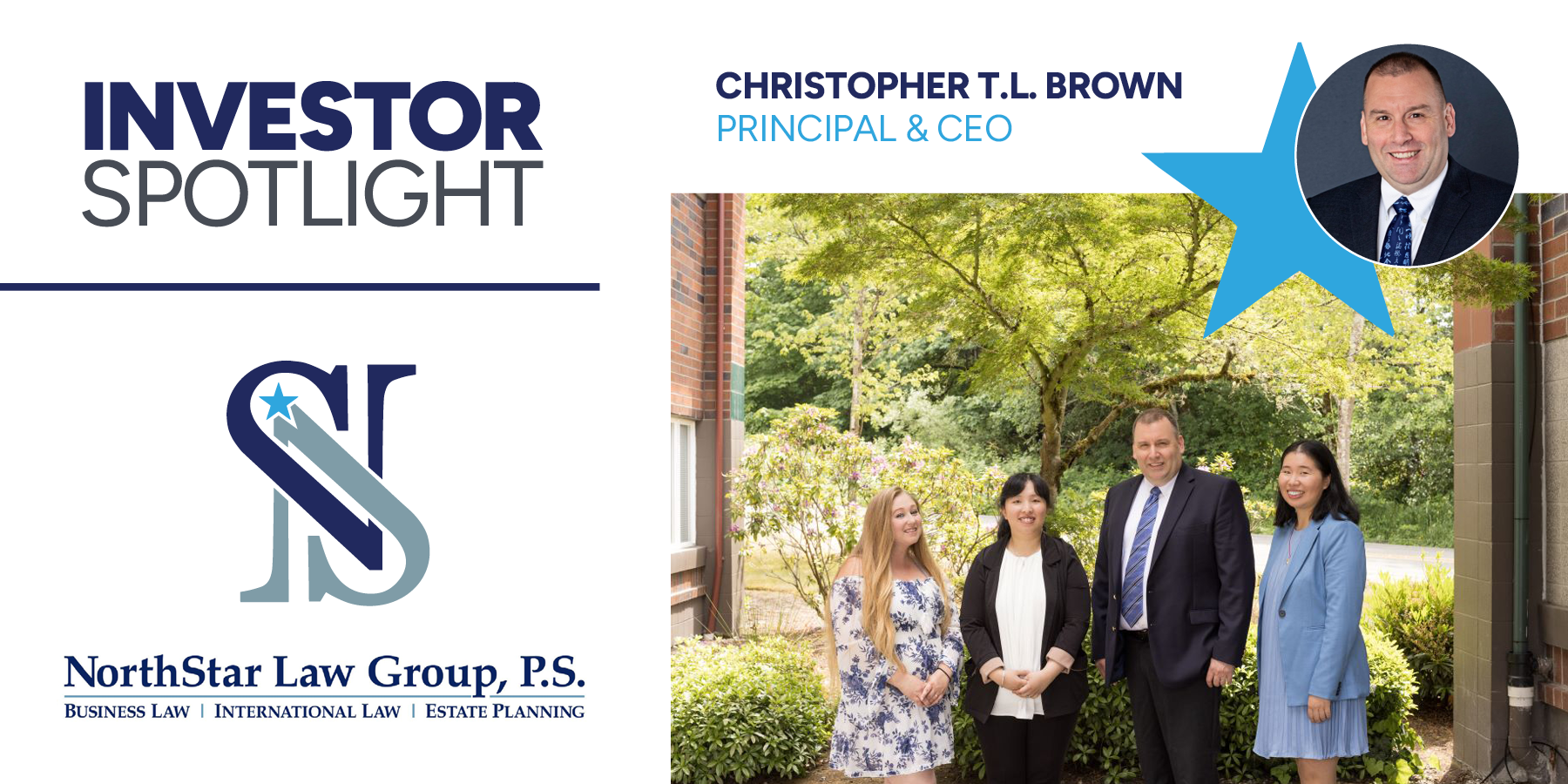 From left to right: Erin Flannery, Alexandra Chu, Christopher Brown and Olivia Chu. 
NorthStar Law Group P.S. Offers Global Business Solutions
We live in a global marketplace. Entertainment, goods and products, food, and even education all take place on the worldwide stage. Successful companies must learn to juggle time zones as well as paperwork. Then, there are thorny tax issues to master. But business owners are also parents and siblings who want to leave a legacy for their family's future. To help with all these things and meet a very real need in our region, attorney Christopher T. L. Brown created NorthStar Law Group, P.S..
NorthStar Law Group offers domestic and international business law, merger and acquisitions, estate planning, Federal and Washington tax law, and contract services across Western Washington. They facilitate both inbound and outbound commercial transactions. NorthStar Law Group also helps entrepreneurs with start-ups, funding, regulations, contracts, employment, and general counsel needs.
But NorthStar's journey began well before they opened their doors. Mr. Brown is an Oregon native who studied at Willamette University and spent several years working in Japan, eventually becoming fluent in Japanese. While in school, he initially wanted to become an international business attorney but took a looping career path to arrive at his destination.
As we've all learned, like it or not, life involves paying taxes. So, Mr. Brown added an extra year onto the regular law school curriculum to master tax law as well. He started from the ground up by first working for a boutique tax firm that handled high-end customers, start-ups, and traditional business dealings. On moving to Tumwater in 2007, Mr. Brown continued in tax law and estate work before opening his own offices in 2009. Ten years later, this would become NorthStar Law Group, P.S. and cater to clients in China, Korea, Canada, New Zealand, Mexico, Europe and more. As he says, "I've finally circled back to what I really wanted to do."
In 2018, Mr. Brown attended a presentation with the Thurston EDC about doing business within China. He, several clients, and representatives from the EDC even went to Shanghai to learn more. Later, before the pandemic put many projects on hold, Mr. Brown was working to connect local organizations, including the EDC, with foreign governmental entities for potential partnerships involving international trade.
Unlike a strictly business-law-based practice, Mr. Brown's includes estate planning and tax law resolution. "U.S. and international business transactions are the focus of the firm," he says, "and they all have a tax nexus to them.  However, without an estate plan, your business plan means nothing." He doesn't file tax returns or deal with the banking and lending side of things but is happy to "refer up to places like the EDC. They're a cost-effective and invaluable resource for getting business start-up help and NorthStar Law Group's role is to assist on the legal side of the process."
NorthStar Law Group recently won a David vs. Goliath-sized victory over the IRS, says BusinessWire.com, reducing a Lewis County company's tax bill from millions of dollars to zero. And successes like these, along with a healthy post-pandemic growth spurt, have Mr. Brown looking to expand and grow into 2024. Before COVID-19, their firm had four offices, three in Washington state and one in Shanghai, but had to downsize due to the quarantine.  Now that we're out of the pandemic, Mr. Brown hopes to rebuild their Seattle office and hire additional attorneys to take on new domestic and international clients in the near future.
If you'd like to learn more, visit www.nslawgrp.com or call 360.292.4556. NorthStar Law Group's website even offers an online library of helpful forms, articles, and videos to explain concepts and address commonly made mistakes. Recent posts include keeping your LLC or corporation in good standing, proving product liability, talking to your family about business succession, resolving deadlocks, preventing lawsuits, and the basics of stock redemption agreements.
In Washington state, it's estimated that 40% of jobs are related to international trade. The U.S. State Department estimates nearly $110 billion is imported or exported between Washington and the 21 Asia-Pacific Economic Cooperation (APEC) countries. If your business needs experienced representation or hopes to grow in this unique marketplace, reach out to NorthStar Law Group today.  Christopher Brown and the team will gladly provide skilled and knowledgeable expertise for every step of the journey. When even American produce travels an average of 1,500 miles from farm to table, having expertise that spans continents—and generations—is truly win/win.