New Southwest Washington Food Hub Seeks Value-Added Products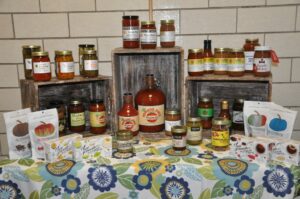 The SW WA Food Hub is a farmer-owned cooperative focused on sourcing products from Thurston, Lewis, Grays Harbor, Pierce & Mason counties. The Hub—launched in 2020—is committed to developing new markets for local farmers and value-add processors and provides an online ordering platform, aggregation, packing and delivery services.
Are you a local product producer? Are you looking to grow your market for your bread, beverage, or other locally crafted product?
The Hub is hosting a value-added producer outreach session to learn more about serving our regional food manufacturers and finding businesses interested in selling through our online platform. Join us for an informational session on Tuesday, January 12, from 3:30 p.m.-5:00 p.m. on Zoom. Email [email protected] for the Zoom link.  
Hub development, including marketing and sales, is supported by the Northwest Agriculture Business Center, Thurston WSU Extension, Pacific Mountain Workforce Council and Thurston Economic Development Council.
We hope to see you there to help build our regional food businesses and create the most robust regional sales platform for our local food system.
What: Informational Session for producers interested in selling through the food hub
Who: Makers of local value-added food products
When: Tuesday, January 12, 3:30-5 pm
Where: Virtual Meetings – Email [email protected] for the Zoom link.