PTAC Small Business Spotlight: Awodi Drumming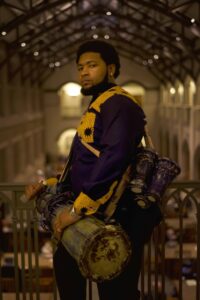 How does an organization with an arts-focus find work in government contracting? To find out, we spoke with Javoen Byrd, owner of Awodi Drumming and a PTAC client. Javoen started Awodi Drumming in 2019 as he was working on his Masters's degree at the University of Washington in Ethnomusicology.
"Growing up, my family was into African/Afro Caribbean music, and my mom forced me to play the drums when all I wanted to do was read books. While I was an undergrad at The Evergreen State College, I thought I'd go into science or math, but one of the student advisors learned that I was a drummer and talked to me about graduates of Evergreen who made a living in the arts. He became my mentor, and I changed my focus to Ethnomusicology."
Later, he learned that the Green Hill Youth Detention Center needed someone to develop their African Culture group. Javoen got the job and developed his first program for the State implementing African drum and dance curriculum for rehabilitation. "When I saw some of the boys in tears, it made me want to expand my work, so we started working with nonprofits helping them with team building through drumming and dance," he said.
Eventually, Javoen decided to go back for his Master's in Ethnomusicology at the University of Washington and started taking from the Foster School of Business. He graduated this past June and soon after received his first state contract with DCYS. "We are working with researchers to get data collection with the project. We are looking to expand into work culture training. Providing corporate Drum circles to help with team building and DEI," he said.
Javoen had early government contracting success, so he decided to expand this market and reached out to Kate Hoy at PTAC. "She's been great helping me apply for bids and expand what we are doing with contracting," he said.
When asked what advice he'd give to new businesses, especially those pursuing the arts and contracting, he said, "Don't give up. Constantly think creatively about using your particular craft to help other businesses. We are a service-based business. We use innovative techniques to help organizations. Knowing who you are and discipline is the pathway to achieving your dreams."