Saint Martin's University was Awarded the Gold Distinction for a Third Consecutive Year as a 2021-22 Military Friendly® School by VIQTORY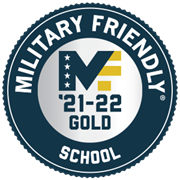 Saint Martin's University was awarded the gold distinction for a third consecutive year as a 2021-22 Military Friendly® school by VIQTORY.
The Military Friendly® Schools list, which is in its 20th year, has come to set the standard for higher education institutions to provide the best opportunities for veterans and their spouses. This prestigious list provides a comprehensive guide for veterans and their families using data sources from federal agencies, veteran students and proprietary survey information from participating organizations.
Saint Martin's University received 100 percent in all six Military Friendly Rating categories, including Academic Policies & Compliance, Admissions & Orientation, Culture & Commitment, Financial Aid & Assistance, Graduation & Career, and Military Student Support & Retention.
In addition, Saint Martin's was the only Washington state school among the 17 receiving recognition as a Military Friendly school by VIQTORY, to earn the gold standard, marking the second straight year Saint Martin's University was the highest ranked school within the category of private, non-doctoral-granting institutions in Washington state.
"It is an honor to support those men and women who have sacrificed for their families and our country," said Pamela Holsinger-Fuchs, Ph.D., dean of enrollment. "Our Benedictine values of respect for person and community are a natural connection for our many military affiliated students."
Institutions earning the Military Friendly® School designation were evaluated using both public data sources and responses from a proprietary survey. Over 1,200 schools participated in the 2021-2022 survey with around 750 schools earning the designation of which 162 selected for the "Gold" award status for their leading practices, outcomes, and effective programs.
"In our 49th year of serving servicemembers, their families, and numerous military affiliated students, we are once again honored to be named as a Gold Status Military Friendly school. This honor denotes our service to a distinguished community of men and women, faithfully dedicated to the defense of our great nation, in support of their pursuit of reason and vocation." said Cruz Arroyo, associate dean for administration for Saint Martin's University – Joint Base Lewis-McChord Campuses.
The Military Friendly® Schools survey is the longest-running most comprehensive review of college and university investments in serving military and veteran students.
For more information about the resources and programs that Saint Martin's offers to support the military community, both at its Lacey and JBLM campuses, visit the military community page on the Saint Martin's website.
VIQTORY is a service-disabled, veteran-owned small business that connects the military community to civilian employment, educational and entrepreneurial opportunities through its G.I. Jobs®, Military Spouse, and Military Friendly® brands.
Saint Martin's University is an independent, four-year, coeducational university located on a wooded campus of more than 300 acres in Lacey, Washington. Established in 1895 by the Catholic Order of Saint Benedict, the University is one of 13 Benedictine colleges and universities in the United States and Canada, and the only one west of the Rocky Mountains. Saint Martin's University prepares students for successful lives through its 29 majors, 11 master's programs, one doctorate program and five certificate programs spanning the liberal arts, business, education, nursing and engineering. Saint Martin's welcomes more than 1,300 undergraduate students and 250 graduate students from many ethnic and religious backgrounds to its Lacey campus, and more students to its extended campus located at Joint Base Lewis-McChord.