Target Zone Grant Helps Ikonic Wings Take Flight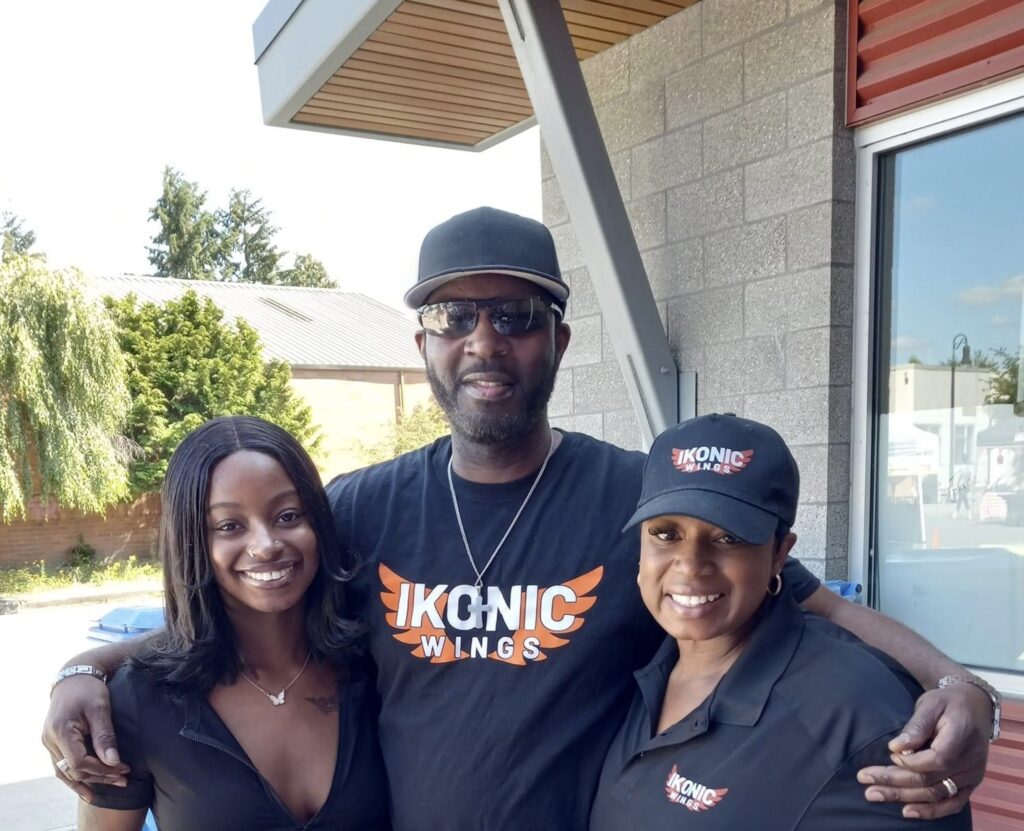 Kelly Wynn (right) is with her husband, Jerry Wynn III and her daughter, Kianni Suesberry. Photo courtesy of Kelly.
Kelly Wynn always wanted to start a business, but for the last 20 years, that dream has been on hold. As a military service member, she rarely stayed in one place long enough to establish roots, let alone a customer base.
"I became a chef in the military, but I was constantly changing duty stations," Wynn explains. "When I retired in 2019, it was the right time to open a new chapter in my life." That chapter is Ikonic Wings, a startup company that serves unique chicken wings in a family-friendly environment. The business opens in late August or early September 2022 at 1110 Galaxy Dr. NE Suite F in Lacey.
Customers can expect extra crunchy, meaty chicken wings that are double dipped in special sauce and homemade with fresh ingredients. "The quality of my food is over the top," Wynn says. "It's going to be totally different from what people are used to."
Wynn and Ikonic Wings recently received a Thurston County Target Zone Business Startup Grant through the Thurston Economic Development Council. The grant aims to address economic inequity by investing in the areas and people most vulnerable to the impacts of the COVID-19 pandemic. Applicants had to meet specific industry, housing cost or income-related criteria.
"The grant was such a blessing," Wynn maintains. "A lot of banks don't want to lend money to startup companies. This funding allowed me to purchase most of my equipment and pay my rent in advance. I'm starting this business debt-free, and my family and I are so excited. We were ecstatic when we heard the news."
She plans to emphasize quality, consistency and community as core aspects of the business. Many of her employees are minors, and while she may not be able to offer benefits right away, Wynn intends to provide small scholarships along with supporting community events and causes. "I wasn't born with a silver spoon in my mouth," she notes. "We grew up in poverty, and now that God has placed me in a position where I can help people, I want to give volunteer hours and sponsorships for local organizations."
She encourages everyone to come out and try her wings, promising that the flavors will be unforgettable and the environment welcoming. "We're a loving family," she says, "very down-to-earth, and we want to do something positive for our community."
"This was a very competitive program, and the decisions were difficult. We received a large number of submittals, all of which demonstrated a deep entrepreneurial spirit in our communities," said Mayra Pena, Thurston EDC's BIPOC Business Development Liaison. "We look forward to working closely with Ikonic Wings to provide business coaching and specific technical solutions available at the EDC's Center for Business and Innovation, which will help ensure the success of her endeavor."