Van Tuinen Art Nominated for Economic Courage Award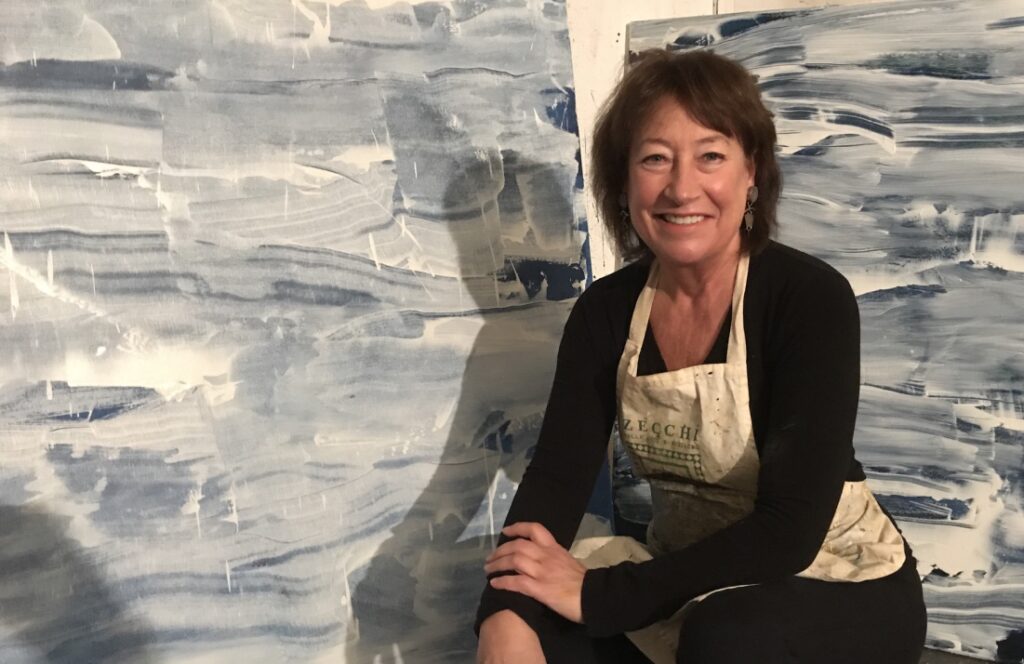 Economic courage could be defined as a leader, a business, nonprofit and or organization that, while facing economic uncertainty and a radical retraction of "business as usual," took extraordinary steps to provide a service, a product, and or a support service that made a positive impact to the community and or employees of their organization. These individuals took economic risks to continue providing a service, product and or resource in the face of unprecedented economic uncertainty. Showing the ability to adapt, change and thrive during uncertainty. The Thurston EDC awarded Economic Courage Awards at the Hootenanny on July 19.
Learn more here: https://thurstonedc.com/hootenanny/.
During the past year, Van Tuinen Art showed Economic Courage and has been nominated for an Economic Courage Award.
We asked Debra Van Tuinen to answer some questions about the past year and how the business took extraordinary steps to impact our community positively. Her answers are below.
What year was your business established?
Van Tuinen Art was established in 2000 and opened at Views on Fifth at 429 4th Ave W on August 1st 2020.
How many employees do you have?
I have not hired any employees as I have been open only by appointment during the pandemic.  I will hire an intern when I can open safely.  I have done this in the past and several interns have gone on to succeed in their art businesses. Currently, I work in the studio 6-7 days a week and accept walk-in visitors most Saturdays.
Is your reach local, regional or national?
Van Tuinen Art has worked with local groups and supports local auctions.  I was on the board of the  Children's Hands on Musuem and the Olympia Art's Commission.  I show locally, regionally and internationally through shows and galleries.  Below is a list of selected shows and collections, and you can visit  www.vantuinenart.com for more information:
Selected Shows:
Internationally:  Galleries in Vancouver BC and Calgary Alberta, the Florence Biennale in Florence, Italy. I also taught several encaustic workshop in Cortona, Italy.
NationalIy:  Artseen gallery in LA,  Space Gallery in Denver.
Regionally: Galleries in Seattle, Bellevue and Portland.
Locally:  Artswalk since 2000, Studio Walk, Washington Center, Waterstreet Restaurant
Selected Collections:
Internationally:  Imperial Bank of Canada, Art in Embassy 2008 – Doha, Qatar and 2016 in Tashkent, Uzbekistan.
Nationally:  Kansas State University and Kaiser Medical, and Mitsubishi.
Regionally:  Nordstrom, Bonneville Power Administration, and Hilton Hotels;
Locally:  Heritage Bank, City of Olympia, Gannet News
What does your business do?
Van Tuinen Art creates and sells artwork for residential and commercial spaces.
I often visit my client's homes and businesses with selections of paintings so they can see how the artwork looks in their environment. I usually help install work the work permanently when purchased.
My income stream is solely dependent on making and selling my artwork and commissions.  
What specific niche does your business fill in this community? 
This is an artist owned gallery and working studio that welcomes visitors to meet and talk with the artist.  I often provide demonstrations in my studio of how I use the various mediums and tools in my work.
I teach encaustic workshops for all levels, from beginner to advanced students.
What are the key elements you attribute to your business success?
From my first romantic realization that I wanted to be an artist, my life path has been set on a single course. In a career spanning more than fifty years, this path continues to evolve in response to my personal landscapes.
These literal and metaphorical landscapes, my desire to create, and the skills I have diligently honed along the way, have combined to shape every aspect of my life, especially my art.
The origins of my creative desire had more to do with the process than the product. As a child, I loved to draw and paint because of how it made me feel. Even today, I find that when I hold fast to this motivation, my work is the most authentic.
Thus I find my new collection to be my most satisfying yet.  "Light Revealed" is the organic evolution of my previous work into a new flowing form. In these pieces, I have opened up my relationship with paint and canvas, allowing myself a greater freedom to explore the movement and the sensual aspects of my work.
I find that many who enter my gallery and studio have followed my work for a long time and love my new collection in large colorful oil paintings.  Since opening at my new Views on Fifth location, my gallery has seen growing success.
Even when I am struggling I turn to my favorite quote  by E.E. Cummings which inspires me to have courage to seek this path:  "Once we believe in ourselves, we can risk curiosity, wonder, spontaneous delight, or any experience that reveals the human spirit."
It can be a curse to define your true north from such an early age, forsaking other conventional pathways that are more financially sound, but for me it has been a blessing that has nurtured my belief in myself and allowed me to take more risks and cultivate them in my creative process and thereby reflect an undaunted human spirit to all of those who enjoy my work.