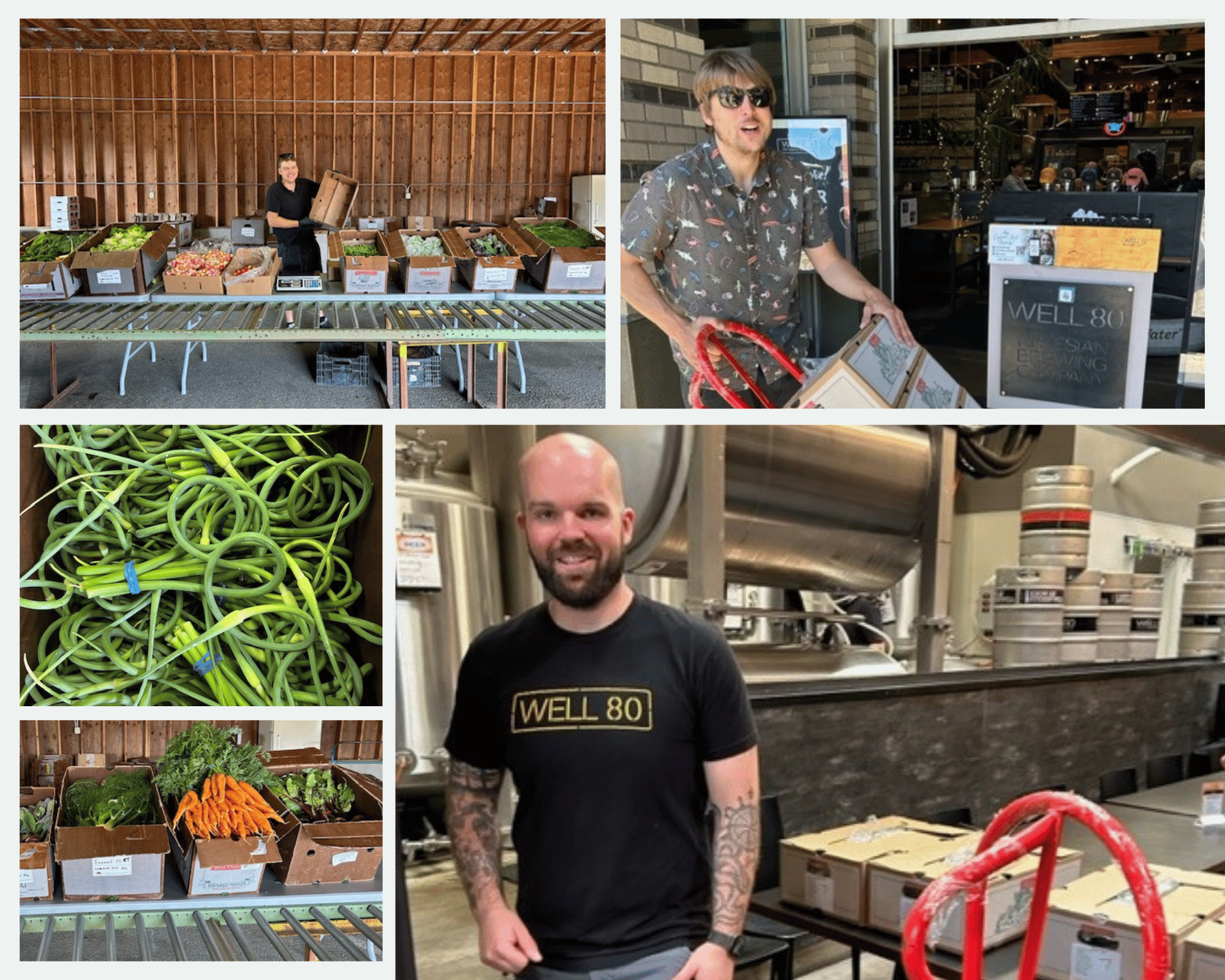 Photos from top to bottom, left to right, Casey McCrone, SWWA Food Hub Operations Coordinator, packing boxes with produce harvested the day before. Casey McCrone delivering Customizable Summer Multi Farm boxes to Well 80 for customer pick up. Garlic Scapes from Wobbly Cart Farm located in Rochester. Fresh produce from local farms ready to pack in Multi Farm boxes. Well 80 Bar Manager, Matt Trotter,  at Well 80 receiving Multi Farm boxes for customers.
Well 80 Brewhouse Partners with Southwest Washington Food Hub 
Well 80 Brewhouse, a beloved local establishment in the heart of our community, recently partnered with the Southwest Washington Food Hub. Owned by Chris Knudson, Well 80 has become one of several pick-up location for Multi-Farm Weekly Produce Boxes. This collaboration aims to support the local economy, showcase regional produce, and foster healthier meal planning for families. 
Becoming a Drop Site Host for the SW WA Food Hub: When asked why he chose to become a drop site host for the SW Washington Food Hub, Chris Knudson explained, "We strive to support our local economy and makers, and we have ample space to support the hub as a pick-up site on Thursday afternoons."

Well 80 Bre

whouse

 has always been committed to nurturing the community and promoting local businesses; this partnership is an extension of that ethos.

Embracing the Multi-Farm Produce Box: Chris's enthusiasm for the Multi-Farm Produce Box is infectious. He said, "If I'm going to buy produce anyway; why not buy the freshest local products available? In addition, I'm excited about the grab-bag aspect of it. I'm also hopeful that my kids will get excited about meal planning with these weekly boxes." By purchasing the Multi-Farm Produce Box, Chris supports local farmers while providing his family with a delightful culinary adventure.
Importance of Supporting Local Farms: At Well 80 Brewhouse, the emphasis on supporting local farms is strong. Chris firmly believes that it is important to support the local economy, and the farmers play a vital role in this system. He states, "Our farmers are a key part of that system. So, yeah, I think it's vitally important." By supporting local farms, Well 80 and its customers contribute to the overall well-being of the community.
The Significance of Buying Local: For Chris, buying local is more than just a transaction; it's a matter of pride and appreciation for the region's producers and makers. He explains, "I'm proud of our region, and I think we have great producers and makers. They bring value beyond dollar signs." By purchasing local products, Well 80 Brewhouse reinforces the unique identity and quality of its community.
Mutual Benefits for Well 80 Brewhouse: When asked if this relationship with the SW WA Food Hub would benefit Well 80, Chris replied, "Hard to say, but it certainly isn't going to hurt us. If nothing else, it brings a few extra people downtown and through our doors." 
Future Connections with SW WA Food Hub Farmers: Regarding connecting more with SW WA Food Hub farmers in the future, Chris believes that it would be best to involve their kitchen manager and executive chef. While the specifics are not yet determined, Well 80 Brewhouse remains open to exploring possibilities for further collaboration and connection.
The Multi Farm Summer Produce Box (15 week program) uses the following participating drop sites:
Thurston County Drop Sites:
Headless Mumby Brewing Co
Three Magnets Brewing Co
Whitewood Cider Taproom
Top Rung Brewing Co
8 Arms Bakery
Flaming Pig BBQ
Dancing Goats Tasting Lab
Well 80 Brewhouse
True Self Yoga/Soul Cafe
The Feed Bin in Rochester
Lewis County Drop Sites:
Shona's Food Company
Nature Nurture Farmacy
KombuchaLuv
Doty General Store
The Southwest Washington Food Hub also has a Workplace Wellness Farmshare Program (10 week program) with employers such as The City of Lacey, City of Tumwater, City of Olympia, Thurston County, and The WA State Legislature.
Learn more here: https://swwafoodhub.com/