Growing Cider Company Stay Local When Business Community Gets
Craft-y
Award-winning new business Tart Cider, LLC found themselves bursting at the seams by the end of 2017.
A 1920s, one-car garage on Olympia's westside housed their cider press, six juice tanks, five fermentation tanks, production supplies, and kegs for their final product.
They were positioned to graduate from this 200-square-foot space and were reviewing a lease for a new Tacoma location, when a team of local leaders moved quickly to keep them in Thurston County.
The result? This start-up commercial cider maker will be joining the Tumwater Warehouse District in February.
Starting at the Core

Eight years ago, Zoë Van Schyndel moved into a home on Olympia's westside that came with an ancient, productive Gravenstein apple tree. She found the old, tart variety made great cider, and her tree produced 40 to 50 gallons. Over time, Zoë upped that to 100 gallons by harvesting additional apples from her neighbors' trees.
Zoë, a professor at TESC, met Nicholas Timm a couple years ago when he was a top student in one of her business classes. They discovered a shared love of apples and cider, and from that mutual passion, Tart Cider was born in 2016.
In addition to Nick's business and management acumen with two start-ups under his belt, he also brought insights into running an agriculture-based business and getting the cider just right. "My family has hundreds of acres of orchards in eastern Washington. I have been involved with fruit production since I could walk," shared Nick. As he got older, Nick experimented with fruit fermentation and making hard cider. He loved the process and the flavors it produced.
Nick said Zoë has a mountain of experience with market research and trends. For his part, Nick says, "I am very technical and make things work around the shop. We work really well together and have great conversations on where we want the company to go." He said they complement each other's strengths and make up for each other's weaknesses. "It's really a good partnership."
Zoë and Nick also share a commitment to sourcing local and sustainable products to create organic, non-GMO, vegan, gluten-free, and certified bee-friendly cider with significantly less sugar than traditional hard ciders.
Nurturing a Blooming Business
In the summer of 2016, Zoë and Nick put considerable time into developing their product and a viable business plan. They explored many business models, from being vertically integrated to outsourcing. "We knew early on, sourcing our apples from my neighbors was a pretty tough business model," Zoë recalled with humor. They considered many options, from obtaining apples from a supplier to buying an orchard.
With their limited space, the team chose to purchase the raw product (juice) from custom-pressed apples. It's delivered unpasteurized and unhomogenized in a milk truck.
"Then we add our secret sauce and ferment it up," said Zoë. "We patiently let nature take its course, without adding heat. We try not to rush it, so we can capture all the taste."
As they continued to refine their plan, they came across an opportunity to enter a business competition. Nicholas' previous military service, seven-and-a-half years in the Air Force, allowed them to participate in the inaugural Veterans Incubator for Better Entrepreneurship (VIBE) Business Plan Competition sponsored by the University of Washington Tacoma. Zoë recalled having to submit an Executive Summary of their business plan. "We had to really nail down exactly what we were doing," she said.
Fifteen student-led teams competed in the Spring 2017 competition. Tart Cider won first place, receiving $25,000 cash for start-up costs and $25,000 in in-kind services, such as professional and legal services.
Keeping Tart Cider's Roots in Thurston County
Keeping Tart Cider in Thurston County was a team effort.
"We really wanted to stay in Thurston County," shared Zoë, but previous attempts to find a good lease locally had fallen short, and they were poised to move to Pierce County.
In October 2017, there was a Brewers Night gathering at South Puget Sound Community College, an activity of the Innovation Partnership Zone (IPZ). The IPZ's mission is to build on the nearly 120-year history of brewing in our community, creating a world-class source for craft brewed beers and ciders and craft-distilled spirits.
Key community economic development players were in attendance as well as local craft entrepreneurs, including Zoë and Nicholas who literally had a lease agreement in hand that would be taking them to Pierce County.
Conversations and quick bridge-building that night connected players who were ready to rally and keep Tart Cider in Thurston County. These included the Thurston EDC's Aslan Mead, Tumwater City Administrator John Doan and Kaufman Construction & Development's Theresa Kaufman-Wall.
Simultaneously, a hiccup was identified with the Tacoma-area location they were eyeing, and Tart Cider needed to look at other options. "It was a whirlwind week for us," says Nick.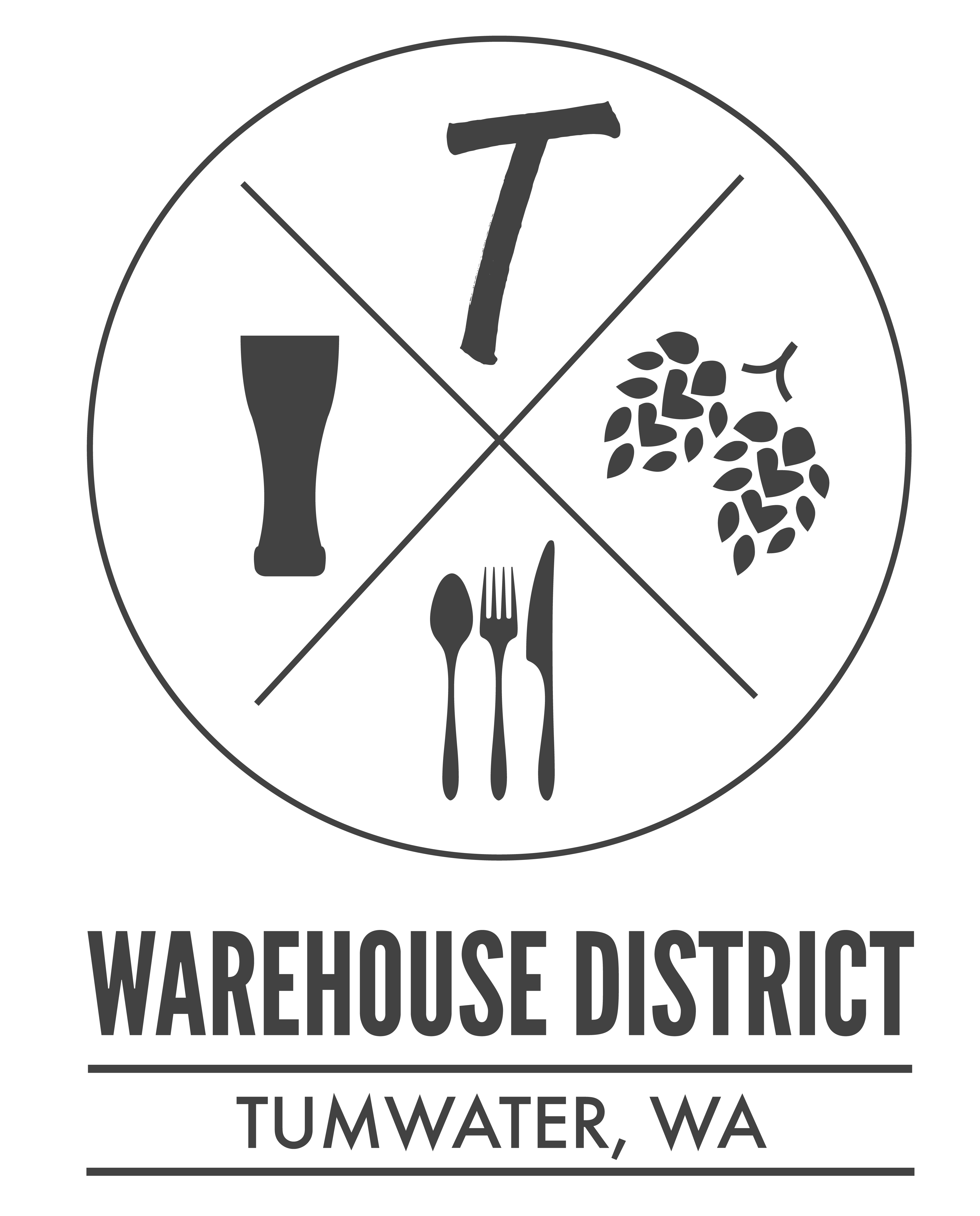 A space in Deschutes Landing, a Kaufman project, seemed like a good fit for Tart Cider, both in terms of scale and tenant mix. Other craft brewers already on site are Triceratops Brewing Company and Matchless Brewing. "The EDC and Kaufman's worked their tails off for us," said Nick. "We needed a flexible lease arrangement for the first couple months, and the Kaufman's offered really favorable terms."
Tumwater City Manager John Doan said Kaufman did an excellent job creating an adaptive lease and managing tenant improvements. Theresa said they were able to meet face-to-face with the city within a day. "Tumwater's permitting staff worked very fast to identify the tenant improvements that would be needed and develop a plan for them to move in," said Theresa.
Theresa Kaufman-Wall recalls quick action by many, including their subs, and the benefit of Riley Wall's substantial experience with food and craft brewing industry tenants in Deschutes Landing. This made it easier to navigate specific requirements tied to the health department, liquor control board and building department.
John said the city worked to be really accessible and took into consideration Tart Cider's tight time constraints. "Their industry aligns with a major priority for the city. We kept asking, 'How can we bring them here?'" he said. "Tart Cider is Tumwater's first cider-maker," John said with enthusiasm.
"The EDC and the Center for Business & Innovation identified the opportunity and pounced on it to make it happen," John said. The Thurston EDC is the designated administrator of the IPZ, leading the effort and working to ensure that entrepreneurial resources exist for the growing needs of the brewing, distilling and cider-making industry.
"As I've said many times, economic development is a team sport," Thurston EDC Executive Director Michael Cade said. "The collaboration in this community between cities, developers, businesses, higher education, public entities and business support organizations is truly remarkable."
Sowing Seeds for Future Success 
In February you will be able to find Tart Cider in their 1800-square-foot space at Deschutes Landing, in Tumwater's Warehouse District, 8024 River Drive SE, Suite 303.
"The new facility in Tumwater will allow us enough space to open a taproom. We expect to sell our cider direct starting in April when the taproom opens," said Zoë.
Until then, you can find their products in a variety of local establishments from Spuds neighborhood grocery to Olympia's Haggen to the growler station at Total Wine. They also distribute throughout the state.
Tart Cider's newest, soon-to-be-released product is Apple Pie Cider. The owner of the Odd Otter Brewing Company in Tacoma, their first-ever distributor, said it was "the best cider he'd ever tasted."
"We're a small business now, but we want to be a very big company," Zoë says, adding they have plans to be nationwide in five years.
And where will they get their apples then? They are already planting needed trees in Nick's family orchard that will be ready to harvest in five years. Now that's planning for success.